Top Landscape Photographs of 2020
landscape photographs
Author – Chris Sale
It has been a great honour to be asked to select the final landscape photographs for the iPhotography 2020 Member Awards – Landscape Image of the Year
It was also a great challenge to select just 10 photographs from the 30,000+ that have been uploaded to the student gallery since the start of 2020.
I thought that some of you might find it useful to gain a little insight into how I arrived at my decision. So I would like to take this opportunity to share the approach that I followed.
When assessing images I start by looking for obvious mistakes. Wonky horizons, poor focusing, over sharpening, that sort of thing. I then like to ask myself a series of questions:
What is the subject of the photograph? Every photograph needs a subject. It should always be clear to the viewer what is the primary subject of the photo.
Has the photograph been composed in such a way that is sympathetic to the subject? The composition is critically important in landscape photography. Beware of distracting elements that compete for the viewer's attention.
Does the lighting complement the subject? Often the success of a photograph is dependent upon matching the light to the scene.
What story is the photographer trying to tell? The narrative is often the difference between a good photograph and a great one!
All of the images that I have selected have a clear subject, sympathetic composition, complementary lighting and a strong narrative. Where possible I have tried to set aside any biases that I might have. However, due to the subjective nature of photography, it is inevitable that my judgement will, to a certain extent, have been influenced by my own personal likes and dislikes.
Landscape Photograph of the Year 2020: Finalists
It often helps to add context to a photograph by showing how the subject sits within the wider landscape. In this image of the Coalport China Museum Carol has used the surrounding buildings, trees and canal to create a natural frame. This is very effective at drawing the eye towards the bottle kiln in the centre.
The use of vivid colour is an extremely effective way to grab the attention of the viewer. In this image of the sea wall at St Monan's Christina has used complementary hues (orange and blue) to create an eye catching photograph. She has also demonstrated great judgement in ensuring that none of the colours are over-saturated.
Simplicity is often the best approach when it comes to composition in landscape photography. By including just a few key elements David has created a striking and compelling image. This is helped still further by the restraint shown in revealing just enough (but not too much) detail in the shadow areas.
Some photographs just have a little extra 'wow' factor. On its own the Honey Valley in the Cappadocia region of Turkey makes for a beautiful photograph. But by including the balloons Elizabeth has taken it to the next level of epicness!
When used effectively strong contrast can help to create graphic images that really stand out. It's not just the shapes and patterns in Heather's photograph that catch the eye. The transition from cool blues and warm yellows also contribute to a very striking image.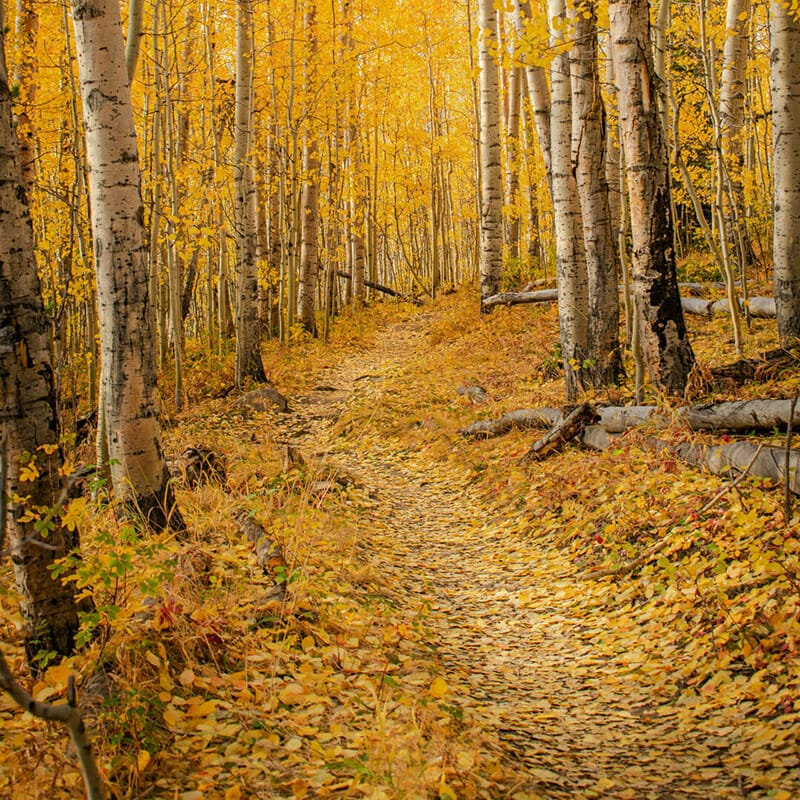 Not all monochrome photographs are black and white. In this image, Janice has used a limited colour pallet and intimate composition to eliminate most of the distractions from this gorgeous woodland scene. The path is also an effective leading line that draws the eye into the centre of the frame.
There can be no substitute for great light. It is the subtleties of both colour and tone that reveal so much texture in Jayne's photograph Cordillera del Paine mountains. This image would grace the cover of any guide to Patagonia.
Not all photographs need to shout at the viewer. In this image, Les has used a simple colour palette consisting of mostly green hues to create a feeling of peace and tranquillity. This is one of those photos that just gets better the more that you study it.
By using light and dark tones it is possible to direct the viewer's attention to a specific area within a frame. In this Manchester street scene, Nathan has used highlight and shadow to draw the eye upwards. This exaggerates the height of the buildings creating a feeling of claustrophobia.
Giving a photograph (which is essentially a 2-dimensional medium) a 3D feel is an effective way of drawing the viewer in. By including foreground, midground and background elements Randy has created an image of great depth. The eye is encouraged to take a journey through the frame allowing the viewer to discover each element for themselves.
Highly Commended Landscape Images
It was an extremely difficult task to select just 10 finalists. Here are some of the photographs that only just missed out on the final shortlist but I wanted to showcase as highly commendable landscape photographs.
iPhotography Course not only teaches you all the standard technical expertise, settings, skills, and special effects with your camera – but we also show you how to use these skills to develop your own individual style as a photographer.
Struggle with motion blur on high-speed subjects? Scott Dunham details how to fix the issue in this guide to aviation photography. Part 2 of 2 articles.
In this flash photography tutorial, you'll learn how to use flash units. Built-in/pop up flashes, off-camera flashes and studio strobe flashes – we'll show you how they work.
street photography tipsstreet photography tips Practical street photography tips is a request we get often from our iPhotography students....