Introducing…
iPhotography's Portrait Photography Course!
This cutting-edge portrait photography course will transform you from frustrated amateur to proud portrait photographer:
iPhotography's Portrait Photography Course gives you everything you need to become a highly-skilled portrait photographer – even if you've never picked up a camera before!
Click the tabs below for an overview of what you'll discover inside each module of the iPhotography Portrait Course:
Instant access
90-day money-back guarantee
What Our Students Are Saying
Take a look at just some of the independently verified iPhotography reviews posted on Facebook, Trustpilot & Google:
Each lesson is loaded with fun interactive quizzes and educational tests to help you keep all the information where you need it most.
There's optional module assignments throughout the course, so you can hone your skills and get feedback from the photographers who have produced the iPhotography Portrait Course.
After all of this artistic insight, you'll be bursting at the seams with inspiration for creative and powerful portraits.
With the ability to make a subject feel relaxed and unguarded, your photography portfolio is going to look like a professional's in no time.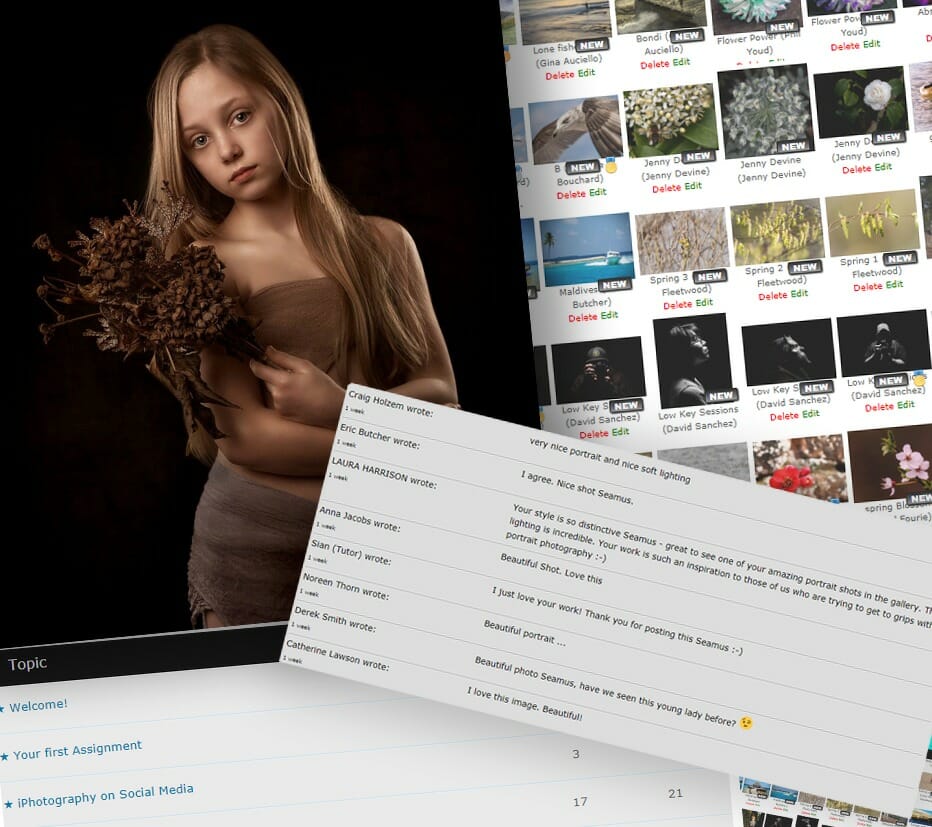 Here's an overview of some of the incredible benefits you'll get when you sign up to iPhotography Portrait Course today:
18 Modules
18 portraiture modules developed by world-class portrait photographers, engineered on next-generation LearnLock™ Technology and delivered on a sleek new interface for maximum learning and retention.
10 Optional Assignments
Brand new, fun and engaging assignments (with tutor feedback) that develop and hone your portraiture skills as you work through the course.
Printed Certificate of Achievement
Foil seal embossed Certificate of Achievement printed on high-grade material – delivered to your door on course completion. Plus, an instantly available digital pass certificate.
Interactive Quizzes
Packed with quizzes, tests and lots of interactivity to make your learning fun, fast and highly effective!
Pro Downloadable Guides
Full access to a library of handy downloads, including: lighting diagrams, planning and posing guides, color wheels, contracts, model release forms, checklists, questionnaires and more.
iPhotography App
iPhotography Portrait course students get exclusive early access to the soon-to-be-released iPhotography Apple/Android (phone/tablet) app, which includes offline access to course modules and much more!
What Our Students Say About iPhotography Portrait Course
We asked 5 respected photographers to beta test our Portrait Photography Course and provide us with their honest feedback. Here are their reviews of the course:
"Your portrait photography course is exactly what I would expect from the iPhotography brand… It has been a pleasure taking the course! I found the module about lighting techniques pleasant and fascinating… Studio photography seemed always a bit too hard for me, but with the downloadable lighting setups provided with the course it became clearer and easier. I also really liked Stephen's Stories – we can draw a lot from our tutor's experience…. I can honestly recommend this course to all beginners and more experienced enthusiasts of portrait photography"
"I really enjoyed it! I loved the lighting section, it had great information in it, and was in-depth. I love the editing modules! I like how it really starts with the basics and then goes to more advanced steps, that will be very helpful to so many people. I think you really covered everything. It was awesome!"
"The course looks great and has some very in-depth, helpful information that will assist anyone wanting to drive their portrait photography forward. Congratulations. An excellent addition to the iPhotography Courses I am sure it will be very popular and cause an immediate stir."
"I found the course very informative especially when I got to the creative portrait section as this is something that I'm really into, especially the UV section which is an area that I'm yet to try. I found it very easy to follow. The section regarding couples and group shots was great, especially composing several shots to put onto the one photo with the negative space, definitely going to use that idea. I like the planning and lessons on mistakes. I loved the section on over editing, this is something I feel will help a lot of people. All round a very good course!"
"I thought the portrait photography course was very comprehensive, far and above some teaching videos I have watched. It was very pleasing well laid out and it led you through everything step-by-step. The rule of third was brilliantly explained – a rule I thought I had a full grasp of. I thought the editing was well explained and interesting. I'm always looking to improve my photography and editing skills so there is information that will certainly improve my photography."
90-Day Money-Back Guarantee
Almost 100,000 students in 187 countries have used iPhotography's award-winning courses to rapidly advance their photography skills. However, we understand that sometimes there are reasons to cancel. That's why iPhotography™ stands behind every course with an iron-clad 90-day money-back guarantee:
Sign up to the iPhotography Portrait Photography course today and you can experience the fun and interactive modules, along with quizzes, assignments and complementary resources for a full 90-days. We're confident you'll be amazed at the radical transformation in your photography.
However, if for ANY reason (or no reason at all) within 90-days you decide to return your course purchase, our support team will happily provide you with a refund in full. No hassle. No questions asked. You are completely protected.
Is this course for me?
The simple answer – YES! It's for everyone, including you!
Whether you have just bought a camera or have spent years behind the viewfinder, this course is comprehensive, educational, honest and cutting-edge – there is no other course like it (believe us, we checked a lot!). On our Portrait Course, you'll find the answer to nearly every question a new photographer could ever ask about taking someone's portrait.
We're like the Wikipedia of portrait photography – all of the answers are under one roof.
It's been written by experienced professional portrait photographers who have spent years working with clients to learn the best hints, tips and insightful stories to the genuine life as a portrait photographer. We'll tell you the honest truth that other courses leave out – some of it may not be pretty, but the truth rarely is.
Is it suitable for beginners or amateurs?
Rest assured whether you've just picked up a camera yesterday you'll still find this portrait course perfect. We've stripped down the learning curve and made it easy for anyone to follow with simple graphics, entertaining quizzes and enlightening animations.
And even if you know your camera inside out, then there's still a lot we can teach you about working with people. Improve your communication skills with all ages, create more personal images by getting to know your subjects and discover some professional secrets that will make your portraits even better!
Can I use my existing camera?
Yes! The best thing about this course is that you don't always need to have a top end DSLR camera. A lot of our course can be followed with a simple point and shoot compact or even your smartphone. As long as you've got a camera to hand then you'll find the iPhotography Portrait Course is the perfect investment in your passion!
You see, it's not your camera, it's how you use it. Once you understand how a few of your camera's features work, everything else falls into place very quickly and you'll be taking stunning portraits and capturing beautiful memories in no time at all.
Can I use this course to make money from portrait photography?
Yes! The secrets you're about to learn include insider knowledge and expertise that was gained from taking over 4.5 million professional portraits – generating sales in excess of $10 million!
You see, we don't just teach this; we live and breathe it too.
If you're thinking of building a little side business from your portrait photography then this is your unique opportunity to tap into the collective knowledge of world-class photographers who have laid everything out for you in step-by-step detail.
With iPhotography Portrait Course you can sidestep the pain and frustration that comes with trying to figure this all out on your own.
How do I access my course?
The minute you sign up, you'll have access to the Portrait Course inside iPhotography's cutting-edge learning platform. If you've ever taken an iPhotography™ course before then you'll be able to access the portrait course right alongside your other iPhotography courses, all from one sleek, simple and secure platform. Plus, you'll have access to a whole array of benefits including our hugely popular student gallery, forum, chat wall and much more!
We've poured everything into this brand-new course!
It has truly been a labour of love. We've taken everything we know from capturing over 4.5 million professional portrait shots and teaching nearly 100,000 people and broken it all down into easy-to-understand steps that deliver magical results – regardless of your camera, knowledge or experience.
From capturing your family's personality, spirit and story in beautiful memories to magical first grandchild moments, special celebrations, adorable pet portraits and much more challenging wildlife shots. It's all covered in the iPhotography Portrait Course.
dollars in portrait sales
Throughout this portrait course, you'll discover camera settings, equipment, posing, lighting and editing right through to how to go out and make a good living as a professional portrait photographer.
If you aspire to capturing beautiful portraits that you can be enormously proud of, then don't waste any more time. You owe it to yourself to get the best possible training and guidance you can to achieve your full potential.
Hit the button below today and begin your journey inside the exciting and satisfying world of portrait photography!