Free Online Photography Course - Learn in 30 Minutes!
Are you looking for a free online photography course to start today? Then we've got the perfect one.
The 30 Day Photographer created by iPhotography is designed to be the most time saving, simple and educational free online photography course available.
By lending us 60 seconds of your day for the next 30 days you'll understand the meanings behind so many photography terms and techniques. Bundle that time all together and it means you can learn tonnes about photography in only 30 minutes.
Free Online Photography Course for Beginners
30 minutes to learn photography?
Incredible! Yes indeed, our free online photography course will give you the important foundational knowledge to get you ready for the next step of turning those snapshots into artistic photos.
You may be thinking 'I can't learn everything in 30 minutes?'.
Possibly not as photography is a growing hobby and someone is always doing something new and groundbreaking. But what this free online photography course can do is get you further up the learning curve than others who don't know where to start.
Don't waste time spending hours watching YouTube videos and not knowing whether they've got the answer to your questions. If you want to know the basics of photography then we've definitely got answers.
With iPhotography's free online photography course you'll get access to a new lesson every day as part of our 30 Day Photographer program – and what's even better, each lesson is less than 60 seconds long.
This means you can complete a class while eating your breakfast, on the bus, walking the dog, or just before bed.
Start the Free Online Course Today
Watch all of our lessons on your phone, there's no need to be stuck at a desk with this free online photography course. It's quick, lightweight, simple and to the point – what more could you want? 
We've broken down the essentials for new photographers to learn quickly and easily – no long-winded introductions just straight to the point with the answers to the most popular photography questions.
The benefit of this free online photography course is that it's all in one place. You won't need to spend ages flicking through videos trying to find what you need to know. Every day you'll be able to access the next video in a structured class to make sure everything you learn is built on previous knowledge.
What's in the Free Online Photography Course?
What's NOT in the course would be quicker! 
We've packed bucket loads of tips and tricks in each of our lessons. This free online photography course by iPhotography has been designed for brand new photographers to get a bite-sized version of our larger online photography classes.
What's even better, you don't need any prior photography experience to start this free online course. All you need is a passion to learn and a camera – but anyone will do! Whether you've got an iPhone or a great DSLR camera you can take this course and learn something over the next 30 days.
30 Day Free Photography Course Topics
Here's a list of the lessons our 30 Day Free Online Photography Course will cover;
Top camera terms you need to know
What's a F/Stop and an aperture?
What is shutter speed?
What's an exposure metering mode?
ISO, and how does it work?
How depth of field works
The best focus mode to use
What makes a great landscape shot?
What's a leading line?
Choosing the right focal length
Colour vs B&W – which to choose?
What's the reciprocal rule?
How to pose men
Posture & balancing tips
What are Family posing shapes?
What is the Golden Hour?
3:2 v 16:9 – Image ratios explained
How to take panning shots
How to pose women
Tips to make your photos sharper
How to clean a digital camera sensor
How to take ghosting photos
What do I need in my camera bag?
What is Forced perspective?
Portrait lighting Tips (Part 1)
Portrait lighting Tips (Part 2) 
The difference between RAW & JPG
4 INCREDIBLE Apps for editing
How to  get through creative blocks
Best ways to optimise your images
How Do I Join the Free Course?
All you need to do is create yourself a free online account on iPhotography.
It's quick and simple and requires no credit or debit card details. Once you're registered you'll have access to our free online 30 Day Photographer Course – there's already a lesson waiting for you. Every day a new lesson will be unlocked for you to watch. You'll need to log in every day to catch the next lesson. You can rewatch previous videos – they're only 60 seconds long at most anyway!
What's the catch? There isn't one. Seriously.
If you love our 30 day free online photography course it may just give you the bug to go further and build on this knowledge. You can take your learning further and deeper into photography by joining one of our bigger online photography classes if you wish – but that's up to you.
iPhotography has a range of online photography classes covering a range of different subjects to suit everyone's interests.
Join our Other Photography Courses
If you want to step up after taking the 30 day free online photography course then we have a range of 18 other photography classes available.
Most beginner photographers who join iPhotography want to learn more about their camera and understand what potential it holds. Therefore, our original iPhotography Course is the best place to start.
Let's have a look at the iPhotography Course and some of our other popular photography classes;
iPhotography Course
Our original flagship course – and we'd say this is the best course to take if you're brand new. This 18-module course covers everything from learning how cameras work, right through to how to edit a picture using Adobe Photoshop.
Packed with information about light, aperture, shutter speed, lenses, camera sensors and composition – it's the perfect beginner course to give your photography strong foundations.
Portrait Course
If you want to improve your family snapshots or even start your own portrait studio then here you go! That's how comprehensive our portrait photography class is.
Written by an internationally published portrait photographer read real-life behind-the-camera stories. Discover the history of portraiture and most importantly how to take amazing photos of children, adults, families and pets!
Wildlife Course
Fronted by acclaimed wildlife photographer Rachel Sinclair, our Wildlife photography class is an animal lover's paradise.
Whether it's dogs, cats, insects, birds or big safari photography you want to explore then we've covered it. From what to wear, how to behave, camera settings, vital accessories and how to edit, Rachel will give you the best approach all the time.
Backed up with 3 assignments for you to try and assessed by professional tutors, this course is beautifully produced for any budding wildlife photographer.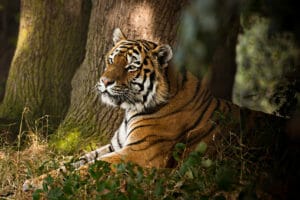 Editing Courses
We also have a range of photography editing classes available. These classes will help you take your photos to the next level in the post-production stage. While software such as Lightroom is the industry standard photo editor we've made sure to create other classes covering;
Tip – We've also got other courses available such as Light Tricks, Home Projects, Landscape Photography, Going Professional and a masterclass in Wedding Photography.
Bonuses for Upgrading
With all of our premium courses, you'll get access to brilliant bonuses for free. Here's an overview of some of the incredible benefits you'll get when you sign up for a paid iPhotography class.
FREE BONUS #1

 Optional Assignments

Some of our classes offer personal critiques and constructive feedback from qualified photography tutors. Receive 1-on-1 advice and tips from the experts.
FREE BONUS #2
Interactive Quizzes
Many of our course modules are packed with quizzes, tests and lots of interactivity to make your learning fun, fast and highly effective!
FREE BONUS #3
Weekly Challenges
Join in our fun weekly photography challenges; as well as our famous annual competitions with incredible prizes! And get even more by joining iPhotography PLUS – our premium training club to unlock tonnes of more features.
FREE BONUS #4
 Extensive Download Library
No matter what class you join you'll automatically get access to our library of handy downloads and extra bonus materials. These include lighting diagrams, planning and photography guides, colour wheels, contracts, model release forms, checklists, questionnaires and more.
FREE BONUS #5
Access to the Feedback Gallery
The private member-only feedback gallery is the heart of our community outside of the virtual classroom. Every month thousands of photos are uploaded by course members for feedback and ratings from their peers and tutors. It's a great way to get personal advice and see improvement in your work. No other online photography academy has a gallery like ours!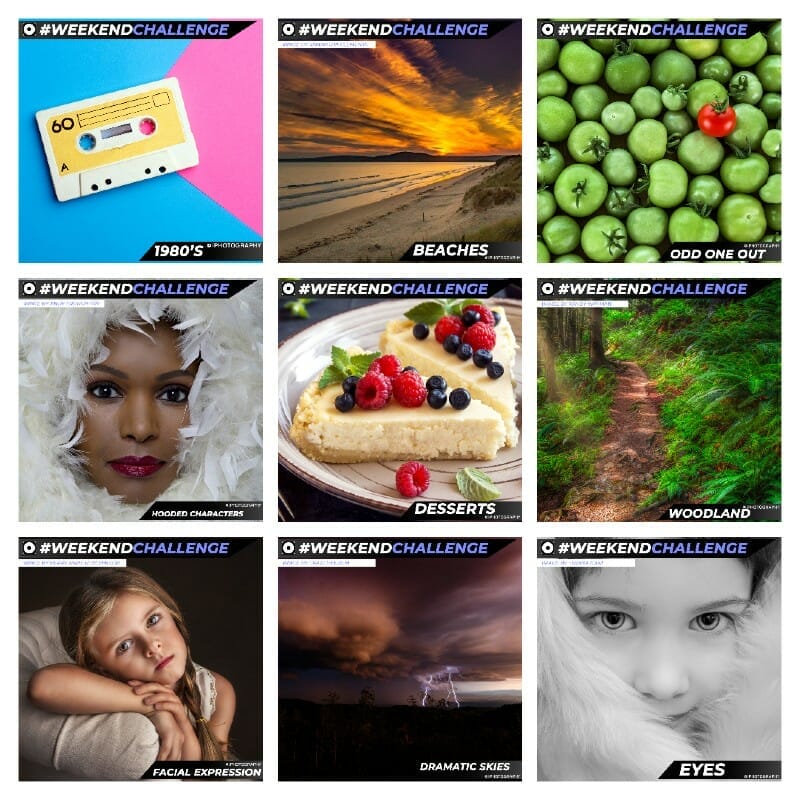 Check Out Our Reviews
Before you decide to go further after taking our 30 day free online photography course you may just want to know how good iPhotography is. We pride ourselves on over-delivering to members, and that's why you can rely on our 5* TrustPilot reviews:
"This photography course is amazing, I have learned an incredible amount not just about my Camera, but about Photoshop. It has improved my Photography as a whole, and I thank all the tutors for their input. It has answered many questions I had about photography that books did not."⭐⭐⭐⭐⭐
"I was a total beginner to DSLR photography and I enjoyed the course. It was informative and the modules were in a progressive order. I am so glad I persevered and completed the whole course. I will use your site for more knowledge and help. Thank you." ⭐⭐⭐⭐⭐
"I have learned so much in this course so far and I can't thank the team who put this programme together enough. It is done so logically and simply the even I can follow it, albeit with time and patience." ⭐⭐⭐⭐⭐
"I'm really enjoying this photography course. I am doing it really slowly. Taking notes from each module so I can use them when I am out and about and I am doing all of the assignments."⭐⭐⭐⭐⭐
Other articles connected to this topic;
iPhotography Course not only teaches you all the standard technical expertise, settings, skills, and special effects with your camera – but we also show you how to use these skills to develop your own individual style as a photographer.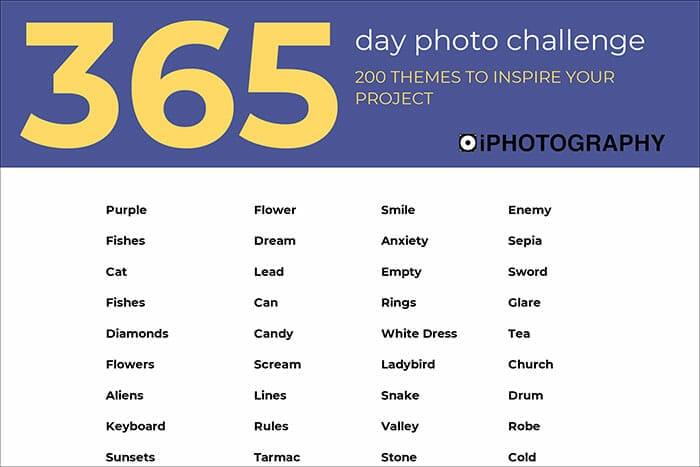 A 365 photography challenge is a daily photo project. We've got inspiring tips, 2 FREE downloads with themes to get you started.
Learn everything you need to start taking breathtaking landscape photography. Equipment Tips, Camera Settings & Compositional Ideas!
Get frustrated with metal cages, reflections and crowds? Then check out our 9 top tips to get the best photos at your local zoo.