The Importance of Photographs
by Jean Gilmour
"If you don't think photographs are important, wait until they are all you have left."
I believe it's indisputable that we are living in a time when the importance of photographs being taken exists more than at any other time in the history of the camera.
I'm enjoying seeing the growth of photography as an exciting art form and love that documentary photography opens our eyes to the world in ever more electrifying ways.
Photography in the 21st Century
It's fantastic that since the arrival of very good camera phones, people have been able to document every step in their lives and to share the images with friends and family.
I have twin grandchildren in Germany from whom I get a photo of what they had for dinner, their school reports, and (almost hourly) photos of their holiday.
It is, however, my feeling that the importance of photographs in a physical format, is becoming diluted due to the accessibility of online storage systems and changes in our 21st-century approach to photography.
I fear the majority of family photographs will disappear into the ether rather than be saved in the albums that were such a family tradition in the 19th and 20th century.
My Family History in Photographs
I'm very interested in history – particularly social and family history. I think the photos taken by ordinary people are a wonderful window into the past.
When my Mum died, my sister and I found a lot of photographs we had never seen before and it reminded me of the importance of photographs. Some of the people in the photos we knew well, many we didn't know at all and wondered about.
Some with vague family resemblances were particularly intriguing; we wanted to know much more about these people who were captured at a moment in time long ago and were now gazing back at us from fading sepia or black and white.
My Family History in Photographs
Some of our favourites were of Mum as a young woman. It's easy to forget that your parents were once young, vibrant and full of life and photos of them when young make you see them in a new light.
I was reminded of the poem, Before You Were Mine, by the wonderful Carol Ann Duffy, in which she contemplates a photograph taken of her late mother ten years before Duffy was born.
She is moved by the image of her mother on a street corner, laughing with friends, dressed in a polka-dot dress and the red shoes she remembers playing with as a child. The photo brings her mother closer to her until …I see you, clear as scent.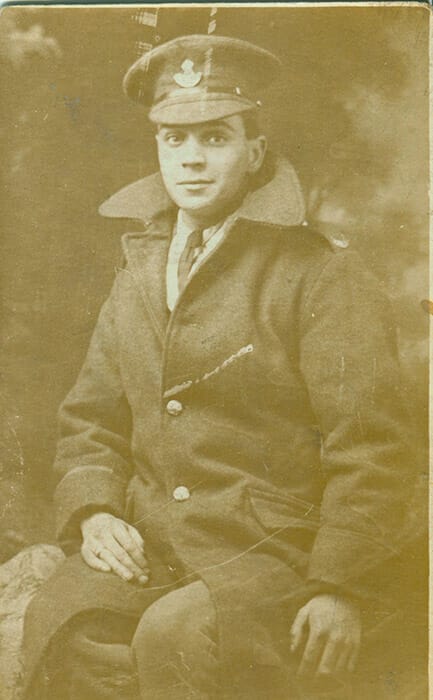 Some of the photos were very moving; my Dad's younger brother, Freddy, aged 18, proudly posing in a suit for what I guess was his formal birthday photo.
In 1944, just 3 years after the photograph was taken, he was killed by a landmine during the war. Another one is of my Grandmother's brother, dressed in uniform; there is an inscription on the back saying 'To my dear sister Emma'. Did he give her the photo because he feared she would never see him again? She didn't; he died of peritonitis in a military hospital in 1919.
One photo caused more speculation than any other; one of my great grandparents and their children in a very early car.
We estimate the photograph to have been taken in the early 1900s and my Mum remembered her grandparents coming to the house in their car when she was a child and the entire street turning out to look because it was such a rare sight.
They certainly weren't a wealthy or upper-class family so how they came to have what must have been one of the first cars in Sheffield, nobody knows.
The history of my family is threaded through these albums and that is very important to me but some years ago I came to realise that family photos have another hugely important role.
The Family Album Tells Stories
My Auntie Ann, my mother's sister, was like another mother, and very dear to me. She lived to be 97 and for the last few years of her life was in a home suffering from dementia. Auntie loved photographs and telling stories so when she became old and it was difficult for her to get out, it became our routine when I visited her to get the family albums out and she would happily reminisce for ages.
It was remarkable that further dementia progressed, the more she wanted to look at the albums. I cried all the way home after the visit when she looked at a photo of her late husband and, for the first time, asked me, 'who is that man?'
The extraordinary thing is that I came to realise that despite the fact that she no longer remembered the stories, or who the people in the photos were, she was still getting pleasure in looking at them; as though on a subliminal level she was recognising her past. This reminded me of the importance of photographs and why we should never stop taking them.
I have taken on the role of family archivist. I'm a huge fan of photobooks which I love creating. I'm building a constant library reminding me every day of the importance of photographs. To date, I have photos of five generations of the family as well as lots of photos of holidays and favourite places.
iPhotography Tutors Say…
"Thank you so much to Jean for this personal discovery into her family pictures and reminding us of the importance of photography. If Jean has inspired you to share your family photographs then upload them to the iPhotography gallery."
If you would like to share your photography experiences, then why not consider writing a photo guide like Jean? Use our dedicated 'Write for Us' page to get started.
iPhotography Course not only teaches you all the standard technical expertise, settings, skills, and special effects with your camera – but we also show you how to use these skills to develop your own individual style as a photographer.
Find out how iPhotography is celebrating World Photography Day 2020. Get involved & join our #Celebr8Challenge photo competition – Massive prize to be won!
Is it your first time working with models in photography? Read our practical tips to find out how to direct, pose and what to talk about!
Discover the iPhotography online photo gallery. Find out how to get personal feedback on your photos from our Pro Tutor Team. Learn how the gallery can improve your photography