Tricks and Tips for Shooting from Skyscrapers
shooting from skyscrapers
shooting from skyscrapers
If you're not a fan of heights, like me, then I warn you now this shooting from skyscrapers guide, though amazingly helpful, may not help those worries! Either way, it's good to know what opportunities to try out if you ever find yourself up high and taking photos from a skyscraper.
While in London, I took the chance to go up the iconic Walkie Talkie building – a business centre on Fenchurch Street. The building is in a cluster of remarkable modern architecture and features a public 'sky garden' for tourists to visit (for free may I add).
What Does This Guide Include?
How to Deal with Reflections
The first issue you'll encounter when shooting from inside to out is that there'll be reflections and glare at every turn.
The trick to shooting from skyscrapers, and avoiding this anomaly, is to get the lens as close as possible to the windows.
For relatively cheap you can pick up a rubber collar to affix to your lens.
It acts like a giant flower/petal hood to cut down on the reflections and press up against the glass without damage – highly recommended in this situation.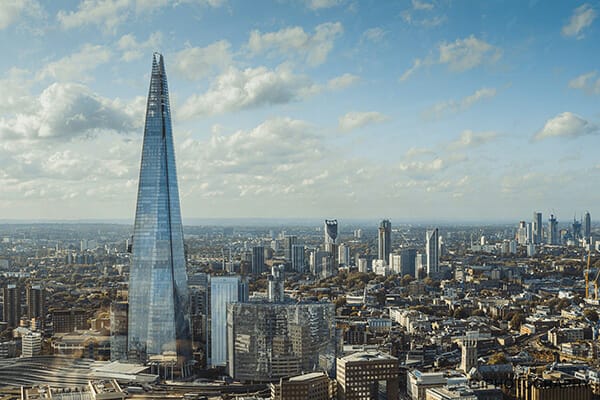 Problems with Glass Tinting
The other challenge when shooting through glass is tinting. Unfortunately, architects and designers didn't think about us photographers when creating these skyscrapers.
Their windows are invariably tinted in some way to help with heating. This means that some of your photos may have a green/grey tint to them.
It's not the biggest issue as you can rebalance this tint in editing with the 'tint' slider for example.
Which Filter to Use for Skies?
When you're up in the skyscraper your horizontal view will be more sky than the ground. Therefore, remember to compensate for this peak in exposure by using the right filter.
Graduated ND (Grad ND/GND) filters are best to use to lower the exposure in the top part of your shot without affecting the lower (but remember to twist your filter correctly if you turn your camera to portrait orientation.) Oh, the errors I've made forgetting this!
Grey and Blue GND filters give different results and show be used appropriately depending upon the weather. Standard grey GND filters give more detail around clouds, whereas blue ones enhance the colours of an already blue sky.
Look Down for Street Shots
Don't just stand and take all your shots at eye level – embrace the fact that you're hundreds of feet above the world and look back down at street level. In busy cities such as London, the perspective of street life was totally different. I saw buildings and roads as simpler structures, just like a map.
Blocks of buildings made interesting compositions and the roads around them created great leading lines. This type of elevation offers a unique view on the world so take advantage of it – you'll feel like you're the Google Earth satellite!
How to Do Cityscape Panoramas
The beauty and scale of some locations can't be captured in just one frame so try out a panorama cityscape when shooting from a skyscraper. Many digital cameras and phones have this function built-in, but you can also do it manually for a higher resolution image.
Pick a point in your cityscape and take the shot. Pan yourself across to take the next, BUT make sure your next image overlaps parts of your first to make sure there are no gaps in between. Do this as many times as you want to capture the full scene.
When it comes to compositing Photoshop and Lightroom both have automated ways to stitch all the shots together.
In Lightroom, select all your images, preferably in order of how they should be arranged. Right-click and select PHOTOMERGE>PANORAMA. In Photoshop the option is under FILE>AUTOMATE>PHOTOMERGE.
Other articles you might like to read connected to this topic;
iPhotography Course not only teaches you all the standard technical expertise, settings, skills, and special effects with your camera – but we also show you how to use these skills to develop your own individual style as a photographer.
On the move? Use these home photography tips to take amazing shots of your living spaces to help sell your home. Perfect for beginners!
Creating a colour splash in Photoshop, in an otherwise monochromatic world, is how some artists bring life to their artwork.
Composition Tips for Travelling With iPhotography Flip Cards Here at iPhotography we're suckers for adventure. From developing innovative...