Father's Day Photography
Tips & Ideas
Father's Day
To first understand our Father's Day photography we need to define the word FATHER: Husband, brother, uncle, superhero, king, spider catcher, protector, saviour, taxi driver, doctor, teacher, entertainer, best friend, coach, mentor, comedian, soldier, provider, legend…
…a man who brings light to our lives.
Father's Day is a day for children all over the world to show honour to their fathers. This time in June is a perfect opportunity to capture that spectacular photograph that your Dad will cherish for the rest of his life.
Do you want to show the main man in your life what a truly special father he is…We have the perfect ideas for you to try with your camera!
Photographing any type of subject requires a CONNECTION which gives your image MEANING.
This is what keeps your image alive, and keeps the viewer's attention, so it's pretty vital you master and understand this before taking your shots.
It may be that taking candid shots, posed or even a time lapse can help you truly capture that perfect moment; rather than simply sitting the family down and forcing them to shout 'CHEEEEESEEEEEEE'.
So before you run and grab for the camera, let's just take some time to prepare and think about what outcome you want to achieve?
5 Important Questions About Dad
Start by answering these questions about your superhero Dad…
• What are your favourite memories with your Father?
• What activities does he enjoy?
• Does he have a particular style or look that is significant to his personality?
• Is there anything unusual that can demonstrate your connection, such as a particularly special item or object?
• What activities/hobbies do you share with him?
Now here's where Fathers Day photographs differ to the soft, feminine ones we focused on Mother's Day. This doesn't mean your shots can't be filled with as much love and care, you may just have to take a slightly different approach. Father's Day images will appear more bold, strong and masculine, just like our fathers.
Of course you can still bring out his soft side and show his inner princess, we just don't think Dad will enjoy putting rollers in his hair and painting his nails.
Photography Gift Ideas for Father's Day
If you want to earn some extra brownie points and give Dad a pre-prepared photo as a gift for Father's Day, then here are some ideas you could try before the big day…prepare yourselves for some big laughs!
You might have seen similar ideas like this before, but they are becoming absolute classics. If executed, well these are often worth hanging up in the family home, above the fireplace or along the hallway.
If you come from a large family, then this the PERFECT idea for you, the more people who can help out the better! In theory, what you're doing is creating the word 'DAD' with people, however, this is easier said than done! It requires a whole bunch of commitment, dedication and talent; not to mention a keen eye for composition.
You will need to get some height when taking these shots to make sure to can define the letter, rather than it looking like a jumbled up mess of bodies. A wide-angle lens would also come in handy here so that you can get as much in the frame as possible.
Keep an eye on your background. A messy background can distract from the letters and make them very difficult to read. If you have a spare bed sheet or large blanket, try lying this down on the floor firstly.
Tackle one letter at a time. Ideally, you will need 2 – 3 people to create the letters and as well as a bit of patience with this one and a lot of artistic direction.
iPhotography Tip:
It's also a great way of getting the younger kids up to date with their spellings!
Following this theme, if you're pulling your hair out because the children just don't appreciate your artistic flow, why not try using some large wood or paper mache letters cut out to spell 'D A D'.
Once you have picked your backdrop, set up a mini studio near a large window to utilise that natural lighting. Set your camera on a tripod or if you prefer just use your camera free hand if that feels more comfortable but be cautious to watch out for camera shake.
Using a WiFi connection or wireless trigger can be handy for this set up as you can be interacting with the child, rather than sitting behind the camera. This can also offer an opening for you to direct the style of the images; do you want to capture serious frowns, silly faces, happy smiles or pulling tongues?
When you give your child the letter make sure you already have your camera ready as candid shots of the initial interaction could create a comical montage…after all children do the funniest things.
iPhotography Tip:
These shots would work best outdoors or with a plain background, to make sure the letter is easily recognized. If your background is too busy it will distract attention away from the letter.
If you're feeling creative or fancy an activity to keep the kids occupied, then why not try making signs for dad. Speech bubbles for your children to hold up can be a perfect chance to express their feelings towards Dad, as well as offer the chance to create your own, unique Father's Day card.
Get some large cardboard and cut out your desired shape and decorate as you wish! Let the kids have fun with it! You could even make some additional props such as moustaches, glasses, large shoe, a bow tie or even a taxi car sign…think of the items that define your father.
Here are some ideas for phrases you could write:
• 'Love you Dad'
• 'I love my Daddy'
• 'Happy Fathers Day'
• 'To the best Dad in the World!'
• 'My Dad is my Hero'
Or you could take a more comical approach with:
• Any famous Dad sayings such as 'Ask your Mum' or 'I'm not a taxi service'
• 'To the Coolest Pop'
• 'Happy FARTer's Day'
• 'Dad, You're one in a Melon!'
• 'Best bank Dad ever'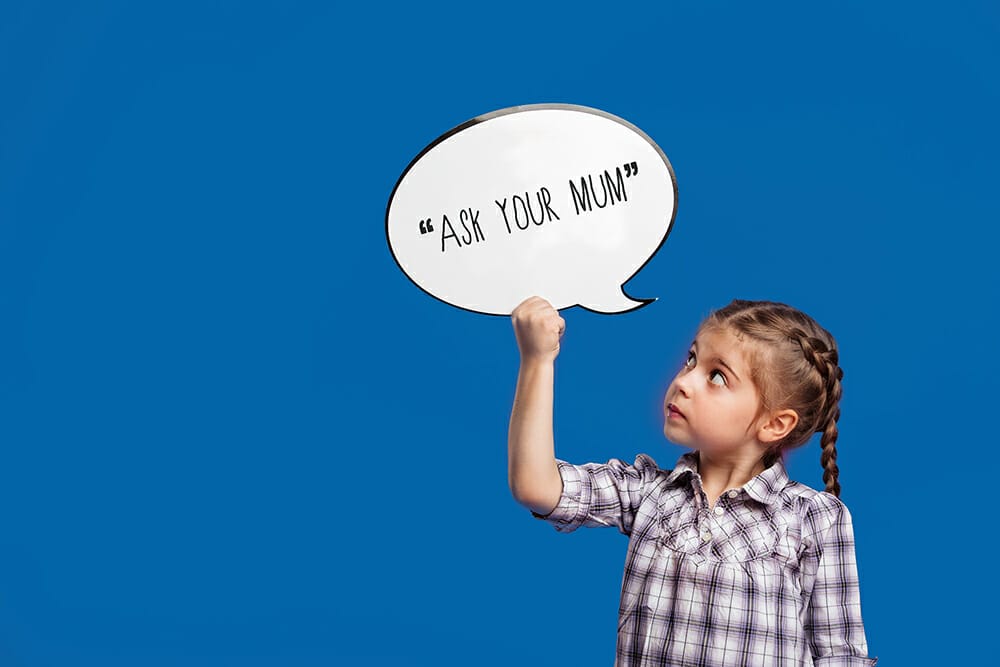 Creative Tips for Father's Day
If you want to turn the cute notch up and become even more adorable, then this might be the one for you! Dad is the hero of the family and all young children want to be just like their fathers when they grow up, give them a chance to see how it feels by dressing them in some of their dad's clothes for a photo shoot.
The contrast between little and large will create the perfect paradox that will make Dad laugh out loud.
Is Dad's job very important or significant to the family? Then, why not try dressing them up in Daddy's work clothes? You can follow along the same concept by allowing the children to wear their fathers work uniform or use a fancy dress costume to create a mini-me version of Dad himself.
For the extra effect, be sure to add in props where you can. Think of what can symbolise the job that they do such as: a frying pan for a chef, a stethoscope for a doctor, a body vest or hat for a police man, high vis jacket and hard hat for a construction worker…

After all of the fun and games of playing dress up and making letters with your own body, the children can become the easel for your Father's day artwork. If you can get your children to sit still long enough, why not get the paint pots out and create a collage of your children's hand or footprints to give to Dad!
Another way to have the kids wish Dad a happy Father's Day using water-based paint is to pose them sitting with their feet facing the camera. Write a simple message to Dad on the bottoms of their feet such as "We (heart) Dad".
You will have to adapt your message depending on the number of feet in your image, but you could also take this opportunity to gather the whole family together, including yourself. Alternatively, you could combine a mixture of hands and feet to make up the letters that you need.
Be sure to keep the background clear and simple as well as using a shallow depth of field to draw as much attention to the special Father's Day message as possible.
Of course, Dad is very proud of his whole family, so make sure you take some pictures that include any other visiting family members with the children as well. Take a photo with Dad as the star of the show, with his family and support system surrounding the main man in the centre. These images can take a little more planning as they will feature more people, but a group photo of the whole family can be a moment to cherish for a long time. You can read more about capturing whole family group shots at our blog post: Family Portraits
Being in the middle of summertime, Father's Day is the perfect occasion for a family get together in the sun (unless you live in the UK). Dad is often a man who loves to get involved with the whole day from the beginning as the chief organiser, head chef and conquering pioneer.
Let's take a look at these typical 'Father's Day' shots and approach from a different angle.
click the headings below to view more
Is Dad the chef of the family? Capture him making pancakes or decorating cakes in the kitchen with the kids.
If it's great weather where you are then maybe a family BBQ would be perfect to get some shots of the children helping Dad flip those burgers?!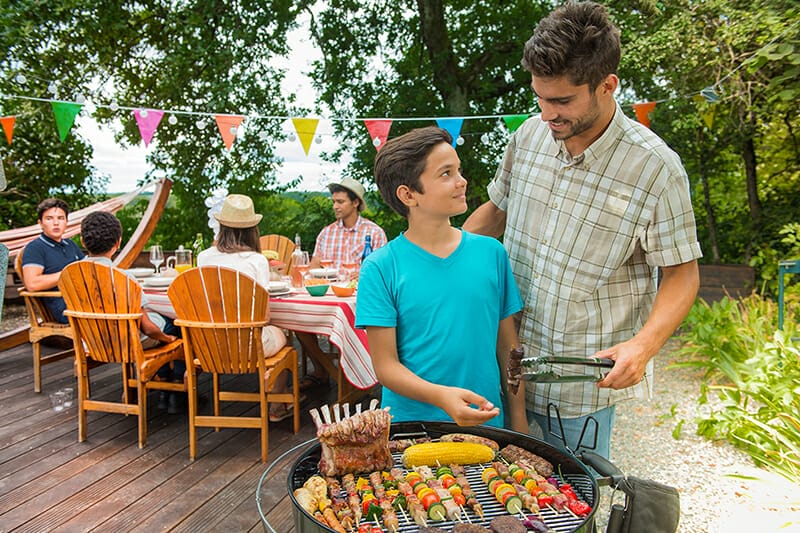 Place lipstick kiss prints all over Dad's face and place him in the middle of the frame with a child on each side kissing each of his cheeks.
Catch Dad and the kids in the act by capturing silly moments as they play around in the garden or local parks.
If you are lucky enough to own a GoPro then this is the perfect camera for capturing these action shots.
Capture that father and son bond with a shot of some fist bumping action, capturing the side view of the fists and wrists only in the image.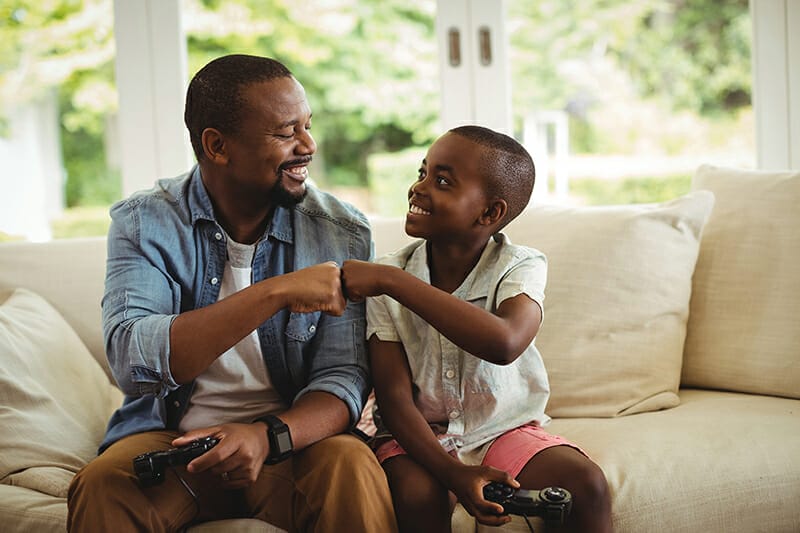 If you want to capture some father son moments why not get the shaving foam out and get Dad to show 'how to'. (WARNING: this could get messy)
After a long day of excitement try taking a photo of Dad reading a favourite bedtime story to the child or colouring a picture together while relaxing on the family room floor.
Student Showcase
Below is a showcase of iPhotography Students work that has demonstrated a pure and unique connection between Father, Grandfather, Son and Daughter.
We hope we've spurred those creative brain cells just in time for Father's Day! However you choose to spend your day, remember to snap the occasion and share your images in our student gallery to take part in our Weekend Challenge.

Happy Father's Day from all of us at iPhotography.
iPhotography Course not only teaches you all the standard technical expertise, settings, skills, and special effects with your camera – but we also show you how to use these skills to develop your own individual style as a photographer.
Watch as iPhotography Tutor Stephen walks you through his set up and shots for a fashion photography photoshoot with an industrial theme.
We've got 6 amazing photography gadgets to ease your workflow and make taking photos way more fun! Read, watch or listen to our favourite 6!
Without a catchlight, your photos can look flat and dull. Giving the eyes a little magical light will make your photographs stand out. Read –