Learn Photoshop in 2 Online Photo Editing Courses for Beginners & Amateurs
Adobe Photoshop is and has been, the photography industry-standard go-to editing software for years which is why we've got 2 incredible Photoshop courses ready to help you improve your photo editing skills.
iPhotography's Photoshop courses have something for everyone. Firstly we have our flagship Photoshop course split over 3 training levels – for beginners, intermediates and advanced users. 
And secondly, check out our Photoshop Composite course. This Photoshop tutorial class shows you how to blend multiple photos into one incredible design.
To help you decide which of our courses is best for you let's have a look at what each of them includes, starting with our main Photoshop course.
Course 1 – Photoshop Course
Whether you're brand new to Photoshop or a seasoned pro, our Photoshop (PS) course takes your image editing skills to an incredible new level.
Developed by award-winning artists, this easy-to-follow training gives you the inside knowledge and skills you need to construct mind-blowing works of art, design surreal scenes, create spectacular special effects or simply retouch and edit your photos with the finesse of a professional digital artist.
3 Online Photoshop Course Skill Levels
Our Photoshop course, which sometimes gets called iPhotography PS, consists of 3 standalone classes;
Beginner
Intermediate
Advanced
Each class, containing 12 individual modules, has been meticulously crafted to give you an incredible arsenal of skills and styles you can quickly apply to your own images. You can sign up to a bundle of all 3 or just choose the skill level that's comfortable for you and then work your way through in your own time and at your own pace.
How Does the Photoshop Course Work?
Every tool used in iPhotography PS is clearly and concisely explained and each technique is carefully deconstructed onscreen and then applied to numerous practical examples in Photoshop.
By using the downloadable work files that we provide you with, you can follow along with your tutor and develop exciting new skills – all while creating some of the most astonishing images of your life!
What is in the Photoshop Course?
★ World-class Photoshop tutorials
★ Step-by-step demonstrations
★ Follow-along work files
★ CPD Certified Courses
★ Certificate of Achievement
★ Professional tutor support
★ Connect with other course members in the gallery
This course has been designed to teach anyone of any age or ability the most important pro-level Photoshop tutorials that will transform you into a serious photo artist.
From day one, you'll be constructing truly mind-blowing works of art in Photoshop that you never before thought possible – even if you've never used Photoshop before. Completing all 3 courses means you'll receive a professionally printed Certificate of Achievement.
What's Covered in the Beginner Photoshop Class?
🕓 6 Hours
Masking Masterclass
How to Remove Backgrounds
How to Dodge & Burn
Creating Abstract Effects
Designing Branding Logos
Colour & Gradient Overlays
Making Movie Posters
Learning Text Editing Tools
What's Covered in the
Intermediate

Photoshop Class?

🕓 6hr 20min
Innovative 3D Artwork
Improving Brightness & Contrast
Sci-Fi Style Montages
Using Custom Brushes & Shapes
Applying Conceptual Body Art
Masking Fur & Texture
Distorting Liquids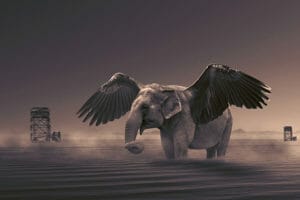 What's Covered in the
Advanced

Photoshop Class?

🕓 11hr 40min
Morphing Creatures
Patching & Blending
Correcting Perspective Distortion
Creating Invisible Subjects
Designing Vector Artwork
Painting Over Portraits
Colourising Illustrations
Photoshop Course Joining Bonuses
Whether you join one of our Photoshop classes or all 3 you'll get instant access to lots of iPhotography bonuses across the site. These free bonuses will give you further opportunities to improve your editing skills and showcase them to other course members and tutors.
▶️ Actions  – automated mini-editing programs that make complicated edits simple!
🎨 Brushes – download our custom-designed brushes to digital paint over your photos
⌨️ Shortcuts – Whether you're a Mac or Windows user we've got keyboard shortcut cheat sheets.
💠 Custom Shapes – Add some graphic design to your projects with Custom Shapes.
🖼️ Gallery Access – Show off your edits in our feedback gallery and get feedback and ratings from other members.
📺 Media Library Photoshop Tutorials – Our video vault of extra Photoshop tutorials is always being updated for FREE!
Do I Need Experience with Photoshop to Take this Course?
No, you do not need any prior knowledge or experience of Photoshop – we assume nothing in advance. This Photoshop course is designed for absolute beginners, keen amateurs and seasoned professionals. 
Each technique and example used in the course is delivered in a logical, step-by-step format that anybody can follow along to. The language used is designed to be simple to understand and the course interface intuitive and easy to follow with no complicated jargon.
Which Version of Photoshop Do I Need?
This Photoshop course works with ANY version of Photoshop CC later than 2017. 
The course is aimed at teaching creative and imaginative artistic edits. Most importantly, the tools and techniques you'll be learning are the same regardless of which version of Photoshop you are using.
So, whether you are using Photoshop CC from 2017 or now, you can still follow along and create these fantastic images. With this Photoshop course, you are limited only by your imagination – not by the version of Photoshop you are using!
Note: If you're using a version of Photoshop earlier than 2017 (or Photoshop Elements) you may find some elements of this course, not 100% compatible. Most should be, but we cannot guarantee full compliance.
Do I Have to Take any Tests During the Course?
At the end of each of the 3 skill classes (beginner, intermediate and advanced) there is a 30 question self-assessment test. It's been designed to maximize your learning experience and help you retain the information we're teaching you.
You can take each test as many times as you like until you pass, at which point your passing results are recorded in our database and contribute towards your final score.
Our support team on request can unlock the tests, but this means that you won't receive a valuable pass certificate at the end of the advanced course.
Course 2 – Composite Course
If you're looking to stay creative even after you've taken your photographs then let us invite you into the world of compositing. Whether you want to have fun or design complicated projects this Photoshop course all about compositing will set you on the right path.
Compositing has been around for years – and is only getting easier. You can use this fantastic skill to blend just two photos together or more. Whether you're a beginner or advanced photo editor we'll guide you step-by-step over 4 entertaining lessons led by iPhotography Tutor Stephen.
Unfortunately, some photographers who wish to learn these creative tricks have struggled to find the best place to start. They've been confused with complicated tutorials, fast-moving instructors or superficial directions.
iPhotography is excited to share with you our Composite Photoshop course that teaches you the art of photo merging photographs into incredible works of art!
What's in the Composite Photoshop Course?
SPECIAL EFFECTS -How to create soft light flares to make your subject's shine.
PRO TIPS -Discover how to add highlighting markers to give greater authenticity.
LIGHTING FX – Create light where there isn't any with our advanced lighting demo.
FANTASY COLOURING – Take your composites to a fictional world by learning how to colour.
TEXTURAL BLENDING – Add a greater sense of reality within your designs using texture overlays.
MASKING – We'll show you how to cut out any subject – simple and complex.
Meet Stephen – Your Class Instructor
The Photoshop Composite Course has been written, designed and presented by iPhotography Head Tutor Stephen. With over 15 years of experience and multiple publications in Adobe Photoshop, you've got the best tutor to lead you through this course.
"Hi, I'm Stephen your Photoshop Composite Course tutor!
While running a large scale portrait studio in the UK for over a decade I was using Photoshop every day to edit photos starting in Photoshop CS2 even!
Over time my edits developed to more advanced designs and became part of my photographic style.
I am so excited to share the power of Photoshop in helping you create amazing composites in these short and easy to follow lessons."
Class 1 – What is Compositing?
In class one, we start with the basics;
What is compositing?
What type of images you can use
And where to find those images (for free)
Class 2 – How to Blend 2 Photos Together
In class two, we'll move on to the next step;
How to remove subjects from complicated backgrounds
The importance of using scale and perspective correctly
Using layer masks and non-destructive editing
Class 3 – Blending Lighting & Colour
In the third class, we bring all our knowledge together and start to refine our composites to look coherent.
Look at the 3 ways editors blend images for authenticity
Using adjustment filters and lighting effect tools
How to match colours from one image to another
Class 4 – Special Effects
In your last class, we'll take it up a gear and look at how you can improve your composites further with pro-level thinking.
How to create shadows
Add in authentic highlighting from light sources
Demonstrate the power of adding textures over our subjects
Will this Composite Course Teach me the Technical Aspects?
With this course, you'll already need a basic understanding of Photoshop to follow along. You may find the lessons too developed if you aren't familiar with Photoshop. It will teach you where to find all those important tools for photographers in Photoshop and how to use the workspace.
But don't worry, once you join this course you'll get access to our 'Introduction to Photoshop Course' class to help you get up to speed. This is an optional free bonus that you can take before starting your course properly. 
Who is this Composite Course Designed for?
This course has been designed for Photoshop enthusiasts with a creative eye. If you enjoy photo editing and want to take your ideas to the next level then compositing could be the next natural step for you.
Do I Need Photoshop?
Yes, you will! While using other photo editing software may allow you to replicate some of the effects demonstrated during the course, for 100% compatibility use the latest version of Photoshop CC will make it easier for you. This course was created using Photoshop CC 2021.
How Long is the Composite Photoshop Course?
This course is spread over 4 individual lessons. It's been designed to be low-impact and time-saving. These 4 lessons combined should take you around 90 minutes to complete. 
This does not allow for completing the 'Introduction to Photoshop' bonus module (if needed). Nor does it take into consideration if you are editing your photos alongside the tutorial and need more time to complete the steps.
Other articles connected to this topic;
iPhotography Course not only teaches you all the standard technical expertise, settings, skills, and special effects with your camera – but we also show you how to use these skills to develop your own individual style as a photographer.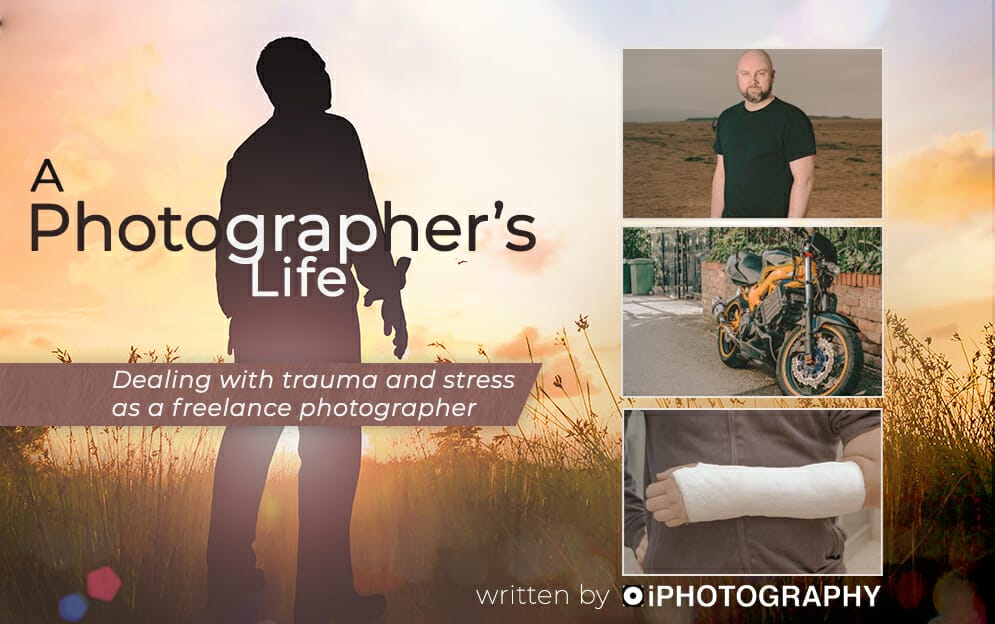 Wedding photographer Martin walks you through his life-changing accident and how he dealt with the painful hurdles to get back behind the camera.
Follow iPhotography student Avril McPherson's first portrait shoot. Find out how she dealt with camera and lighting issues from a beginners point of view.
Searching for Photography Classes Near Me? Find the best Photo Courses with iPhotography. Workshops and Photo Walks hosted in the UK.