iPhotography Light Tricks Course
Discover How to Capture Stunning Light Effects With Your Camera
We've got all the answers right here in our introductory guide to the iPhotography Light Tricks Course. This is going to be the most fun you've ever had with your camera!
The ancient Greeks first used the word 'Phos' 'Graphe' (meaning light drawing) many years ago and this basic principle has been the cornerstone for creating photographs since the birth of the camera.
Our cameras can only create an image when light is present but the ability to trick light in different directions, shapes, qualities, and colours makes our love of photography soar with possibilities. The Light Tricks course is all about just that – we have compiled amazing techniques, ideas, practical exercises into a fun and interactive online learning experience.
YES! It's for everyone, including you!
Whether you have just bought a camera or have spent years behind the viewfinder, this course is insightful, comprehendible and cutting edge – there is no other course like it!
You'll find thousands of new techniques, tricks and training tutorials to push your photography forward. Maybe you are getting a little jaded of taking the same landscape or portrait and want to spice things up – we've got all the spice you need!
Ultimately iPhotography Light Tricks is for all levels of experience. We can guarantee you'll learn something you didn't know already. Which means your photography skills can only improve after completing this course.
The best thing about this course is that you don't always need to have a top end DSLR camera. A lot of our techniques and exercises can be done with a simple point and shoot compact. Or even your smartphone! As long as you've got a camera to hand then you'll find the iPhotography Light Tricks course is a great addition to your photography collection!
The team behind iPhotography Light Tricks have personally designed 18 visually stunning modules covering different aspects of Light Tricks. But let's break it down a little further and have a look what's in each module;
It goes without saying the iPhotography Light Tricks lessons are loaded with interactive quizzes and educational tests to help you keep all the information where you need it most.
There is also optional module assignments throughout the course. So you can hone in your skills and get feedback from the photographers who have produced the iPhotography Light Tricks course.
Show off your brand-new creations in our dedicated private gallery and talk to other students on the course about their experiences.
We'll even showcase some of the best Light Tricks shots regularly on our social media feeds – the whole world will be in awe of your photography!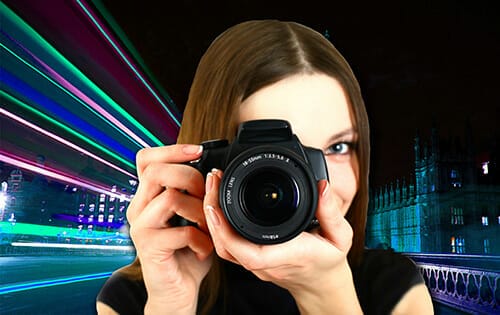 After all of this artistic insight, you'll be bursting at the seams with inspiration for creative light tricks. With the ability to make a light source dance to your tune. Your photography portfolio is going to be overflowing with dramatic light trails and beautiful manipulations.
From the iPhotography Team
Add a stroke of magic and mystery to your imagery
iPhotography Course not only teaches you all the standard technical expertise, settings, skills, and special effects with your camera – but we also show you how to use these skills to develop your own individual style as a photographer.
Composition Tips for Travelling With iPhotography Flip Cards Here at iPhotography we're suckers for adventure. From developing innovative...
Learn how to maximise your phone camera with all these top tips in our iPhone photography tutorial – complete guide to photography
Are you the kind of person who loves to 'people watch'? Are you looking to push your street photography into the public domain? Would you like to learn to capture life in its purest form?