My First Photo Shoot
by Avril McPherson
Photographers have new experiences every time we pick up the camera. But our first photo shoot is a major milestone to mark. iPhotography student Avril McPherson has kindly shared her experience when embarking on her first portrait session…
All Images by Avril McPherson, Copyright 2020.
How I Got Started in Photography
I first picked up a camera 5 years ago, aged 50.  Nothing fancy, a bridge camera, the Canon PowerShot SX60. It has been a good learning tool and has been a great 'friend' over the years.
Little did I know how hooked I would become – my mediation, my passion, my obsession.
For the most part, I have been drawn to landscapes, seascapes, wildlife, and aircraft. The first three because of the beauty only photographers get to see through the lens.
I adore the vibrant colours of trees and flowers, the sheer force of nature that makes beautiful waves. I love the challenge of capturing them at their most powerful.
The beauty, humour and unpredictability of wildlife with their little 'habits' that can help you predict when a good photo opportunity is about to be afforded you.
And finally, the latter is of interest because I love aircraft – and just happen to live on the flight path for Edinburgh Airport!
A New Direction for My Photography
The one thing I was sure I did not want to photograph was people –
so how did I end up here?
In an age of 'selfies' I figured people already had that angle covered themselves.  Well, excluding me that is – ironically, nothing makes me more uncomfortable than being in front of a camera.
COVID-19 and lockdown brought a change of heart. Not directly linked to COVID-19 of course, but somewhere amidst the chaos I had an epiphany – life is short and you should not dismiss anything when you still have time to try.
When looking for a willing model to pose for my first photo shoot I came across a photographer called Sue Bryce.
I was thoroughly inspired by her straightforward talk and passion for her craft, not to mention her brilliance.  And I thought why not give portrait photography a shot (excuse the pun 😊). Of course, I first had to find someone to photograph…
Option 1: Walk up to someone in the street and ask, 'do you want to model for me?'  Nope, that sounds a bit creepy lol.
Instead, I posted in the village neighbourhood Facebook page. Surprisingly, I had a great reaction and within an hour had four possible shoots and had to take the post down because I knew I shouldn't over commit.
I finished my first photo shoot last weekend with a young girl called Andrea (pictured). As luck would have it, she was perfect for my first attempt; so beautiful that even with my limited skill the camera loved her anyway.
She was great to direct – even climbing on a log, through a broken fence and climbing up a tree trunk with huge branches without a hint of thinking I was a crazy person and she should exit stage left immediately.
Firstly, a word of caution to any overthinkers (like me) about to embark on a new direction in their photography. In short, don't feel the need to mess around with your camera settings before an important event because you think
'it will make my photos better'
.
Unless you know what you're doing I would advise you leave well alone and leave such notions for your practice sessions on the ducks.
Of course, I impart this wisdom because I speak from experience, for that's exactly what I did the night before my shoot with Andrea. I moved a setting to Spot AF and then on the day forgot about it. I couldn't understand why the camera's light meter was all over the place. To add to my trauma, I set the camera to AUTO to see if I could get a rough idea of what settings I could use back in manual – I forgot to switch back!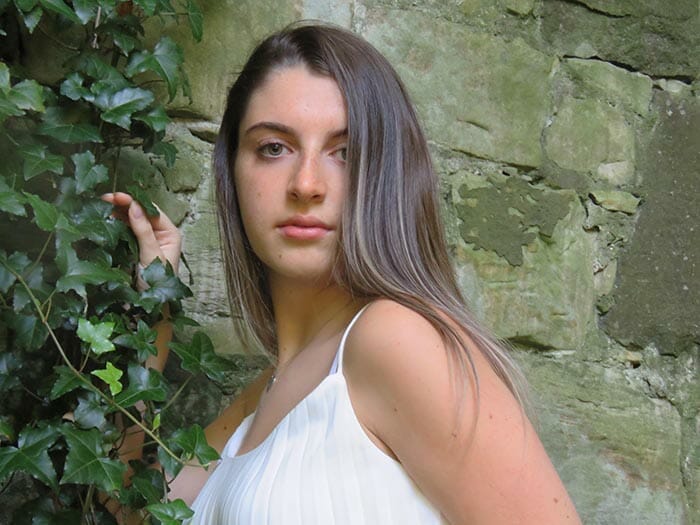 My First Photo Shoot: Verdict
Many lessons learned.
Photos over or underexposed
Some in JPG and not RAW
Hours of work learning Photoshop – just to give me a chance of saving them
The hours of work trying to save them
After finishing the editing (and whilst not thrilled with the results) I think they are OK for my first attempt. I have learned many lessons from my first photo shoot:
Don't use settings you don't fully understand at an important event
Practice, practice, practice!
Learn your settings and lighting inside out
If something doesn't seem right during a shoot – take the time to stop and work out what the problem is. Don't panic and plough on regardless
You're never too old to find a new passion and pursue it
More importantly,
I absolutely loved doing the shoot
and undeterred by my baptism of fire into this genre. It has been the validation I needed that portrait photograph is most definitely a route I want to pursue.
Luckily for me, Andrea also enjoyed the day and has agreed to do another shoot with me. I have two more lined up in the coming weeks, so plenty of practice to help with my journey. Andrea hasn't seen the photos yet. Will be sending her them this week and I hope she likes them.
iPhotography Tutors Say…
"Thank you so much to Avril for this personal insight to her first photo shoot. If Avril has motivated you to embrace portrait photography then let us know and share your photos in the iPhotography gallery."
If you would like to share your photography experiences, then why not consider writing a photo guide like Avril? Use our dedicated 'Write for Us' page to get started.
iPhotography Course not only teaches you all the standard technical expertise, settings, skills, and special effects with your camera – but we also show you how to use these skills to develop your own individual style as a photographer.
A great guide for landscape photographers! Get pratical camera and editing tips. Learn how to improve your shots with HDR Photography.
Transform your landscapes into little worlds using a bit of Photoshop magic. Follow our step by step guide to create incredible mini-worlds.
Finding yourself in a creative block can be the biggest killer for a photographer. You can start to resent your camera due to a struggling imagination.