winter photography
Whether you're out walking in a Winter Wonderland, creating your very own Frosty the Snowman or soaking up the heat in front of the fire, Christmas is a time for feasting, happy greetings and festive fun – but it's even better with your camera and our winter photography tips!
With all this excitement and enchantment filling the air, it would be a shame to waste those precious little moments in winter photography. For instance, hot mugs of mulled wine, children glowing with joy, glittering lights across the town.
So why not use your newfound photography knowledge to capture the best memories yet?
Winter photography presents us with the harshest weather to work in. What's more, the days are shorter, which limits our time to capture great images.
Combined with a low hanging sun, which creates longer shadows, our photographs can become more high-key than we may desire.
But how do we retain our highlights, whilst not sacrificing our shadow detail?! Don't worry, we clever little Christmas Elves at iPhotography Course have compiled the perfect guide to taking stunning winter photography even in the harshest conditions to make sure your photos glisten like tinsel!
So, pull out your bobble hat and let's get ready for our 'Wonderful Winter Adventure'!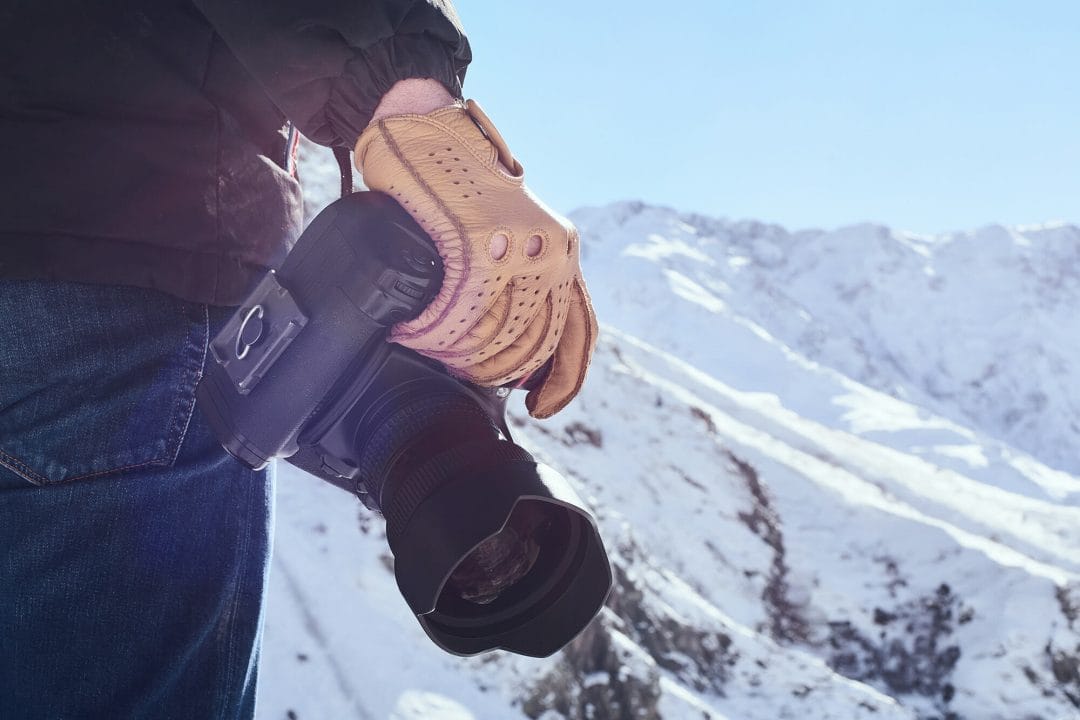 Firstly, it is vital that your camera is in tip-top condition before heading out into the cold, as winter weather forces us to operate differently with our kit. After all, condensation is the biggest killer of cameras in the cold months.
Do not place your camera under your coat in hopes of warming it up.
In fact, the warmth of your body heat and the moisture from sweat can be potentially harmful to your camera.
Plus, there is nothing worse than whipping out your camera for that once-in-a-lifetime shot only to have it fog up as soon as it's exposed to the cold.
To eliminate this threat, immediately place your gear back into your kit bag once you've finished shooting outdoors. Moreover, don't open it up again until you've been home for a couple of hours. This allows your kit, particularly your camera, to slowly warm up to room temperature.
Don't be overly confident of wanting to capture images with a telephoto, wide-angled, fisheye and prime lens before you go out. The intentions are great, but the reality is that sub-zero temperatures will limit your willingness.
Constantly opening your bag and changing lens/settings whilst your fingers are turning in to icicles is no easy feat. Winter photography can be harsh!
Instead of losing fingers to frostbite, take out a zoom lens which covers short to long focal lengths. This will still give you variety in your shots – and pick up a pair of fingerless gloves to help with the frost!
Other things that can give up easily in cold weather are batteries. Always pack a couple of spares and keep them warm ready for when you need them. Cold weather severely drains battery power by up to 50% and if you aren't prepared then your shoot could be over sooner than you think!
Winter Warning – Invest in a strong camera neck or wrist strap to keep control on your kit. After all, the last thing you want to happen is to lose your footing on icy floors and drop your camera on hard surfaces.
If you're a lover of using a shallow depth of field, but want to help cut down on that bright winter's sunshine, using filters will allow you to keep the shallowness along with the correct exposure.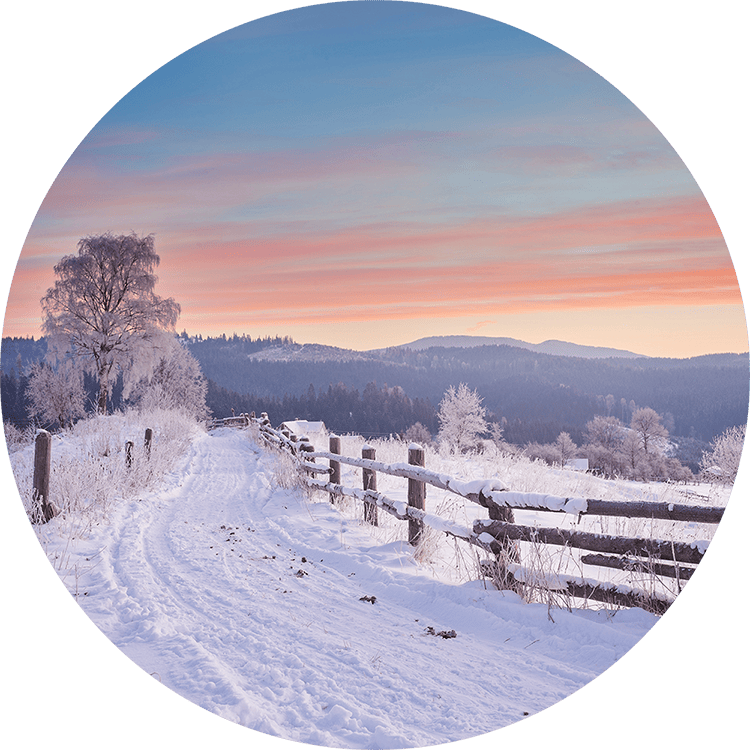 Grad filters are perfectly made for this situation as half filters the skylight and the landscape exposure remains the same – best of both worlds! 
UV or Skylight filters are generic filters which you can attach on top of any filter to protect the front element from snow and debris.
A polarizing filter will darken skies and make blacks appear crisper, therefore giving more definition to clouds.
6 Winter Photography Tips
Once your snowshoes are on and you've said goodbye to your loved ones…you need to know what to expect in the white abyss or overcast mundane weather!
Try to motivate yourself in the early mornings when dew is melting the overnight frost.
It brings a mist as the rising sun thaws the ice, making landscapes and nature photographs look fresh and crisp.
We've thought of 6 important winter photography tips, that will have a huge impact on making the most of your expedition.
1. Set your camera's scene mode to 'snow', or create a custom white balance weighted towards yellow thus counteracting the blue sky reflected in the snow.
2. Also, vary your compositions. Snow isn't the only signifier of winter, look for other iconic symbols to further your work. For instance, frosty spider webs, icicles, sledging and morning mist.
3. Use your histogram to make sure highlights aren't blown out. Try a few test shots and use your LCD screen to make sure you don't have an extreme peak to the right of the histogram. 
4. If your camera supports it, then use Peak Highlight Warnings on LCD to notify you of where your scene is too bright.
5. Add in some exposure compensation. The camera's light meters can be confused by snow and end up rendering white as light grey to avoid the image being overexposed.
6. Flash will capture falling flakes of snow, rain or sleet. Otherwise use a fast shutter speed of around 1/250th if you don't have flash.
Winter Warning – Remember, snow should not be completely white or overblown. However, it can't be grey, either. Make sure it's as bright as possible, but not a solid white mass.
Use your viewfinder to look for colour in an otherwise white scene to create contrast and offer a main focal point to viewers. In particular, red berries, green trees, orange leaves, black tarmac or yellow gloves can look great in winter photography.
If you are lucky enough to be graced with snow, don't spoil your own pictures and leave footprints all over the scene. Try to cover your tracks, or at worst whip out the Patch Tool in Photoshop afterwards!
Winter Warning – Make use of exposure compensation settings. Use -1 to +1 EV to make sure bright scenes don't blow out the highlights without changing the aperture.
Once you're back in the comfort of your own home, take a moment to think about what winter looks like in your family.
It may not snow much in your town, so look for alternative ways to make winter photography memories. Think about activities you do with your partner, children, grandchildren or pets.
Do you get snuggled up in front of the TV watching family movies? Bake cookies in the kitchen? Get messy making homemade Christmas decorations with the little ones?!
Whatever it is that says 'winter at home' to you, make it an extension of your winter expedition (but a much warmer one)! For example, open fires, twinkling fairy lights, thick woollen blankets, mulled wine and hot food create beautiful wholesome family imagery.
Just remember to switch your white balance to incandescent to add a glowing warmth to your shots. Furthermore, open up that aperture nice and wide, to soften the edges making the moment look dreamy.
Choose an aperture of F/5.6 or wider to bring your subject away from the background and make the twinkling Christmas lights behind look like glowing orbs. Thus, creating the ideal scene to photograph kids.
It's a perfect situation to get that ever-illusive family portrait.
Try to gather all the family around the Christmas tree. Then, ask them to cuddle up nice and tight for a timeless seasonal memory.
If the kids have been really good this year, then maybe let them open a present early and capture their reactions in a fantastic candid portrait!
Above all, don't be afraid to experiment. Making wrong choices can sometimes be better than making obvious ones – wrong choices push you into making the right ones.
We hope you enjoy your winter adventure whenever it happens, and remember to share your expeditions with us in the gallery. Most importantly, keep warm and safe!
Winter Warning – Make sure you stay up to date with posting in the gallery. You may be in with a chance of featuring as our Photo of the Day #POTD. Don't miss out on all the latest challenges and competitions!
We hope our winter photography hints and tips have got you itching to get outdoors. Brave the low temperatures or simply stay inside to capture the warmth of Christmas festivities. Nevertheless, we'd love to see your pictures in the iPhotography Feedback Gallery.
Finally, if you want to read more brilliant photography guides like this then check out the rest of our articles and don't forget to like us on Facebook, follow us on Twitter and Instagram!
iPhotography Course not only teaches you all the standard technical expertise, settings, skills, and special effects with your camera – but we also show you how to use these skills to develop your own individual style as a photographer.
street photography tipsstreet photography tips Practical street photography tips is a request we get often from our iPhotography students....
street photography tipsstreet photography tips Practical street photography tips is a request we get often from our iPhotography students....
Follow Janine as she creates beautiful low key dog portraits that you can create too. This step by step guide for beginners is great for pet lovers. Read…