competition winners 2019
iPHOTOGRAPHY
Contest Winners 2019
competition winners 2019
Our iPhotography contests 2019 have once again been a massive success with a record number of uploads and votes cast.
Now it's time to reveal all the finalists and winners to these prestigious contests.
This year we will be crowning 2 winners. One will take home the title of 12 Days of Christmas Photography Champion and the other will be bestowed iPhotography's Photographer of the Year 2019.
The 12 Days winner will have their name in lights as well as a FREE iPhotography course of their choice.
Our Photographer of the Year will be walking away with a spectacular bundle. Including a free course, a set of our popular Flip Cards, brand new Challenge Box and a Light Tent. They'll even get a glass trophy to mark their achievement as well as a special bonus prize, which even they don't know about yet.
12 Days of Christmas Category Finalists
We've had double the amount of entries for this year's contest. You overloaded the gallery with evergreen photos and pictures of Christmas characters.
Straight from the off, it was going to be hard to choose 12 category finalists – let alone one overall winner. Either way, here are the 12 finalists as chosen by the iPhotography tutors.
Giuseppe Blundo
#Christmas Markets
Audrey Schweikert
#Winter Animals
Linda DeStefano
#Festive Treat
Lucy McAlpine
#Christmas Characters
Justyna Adamek
#Seasonal Activities
Elizabeth Burk
#Photoshop Magic
Sandra Slade
#Christmas Eve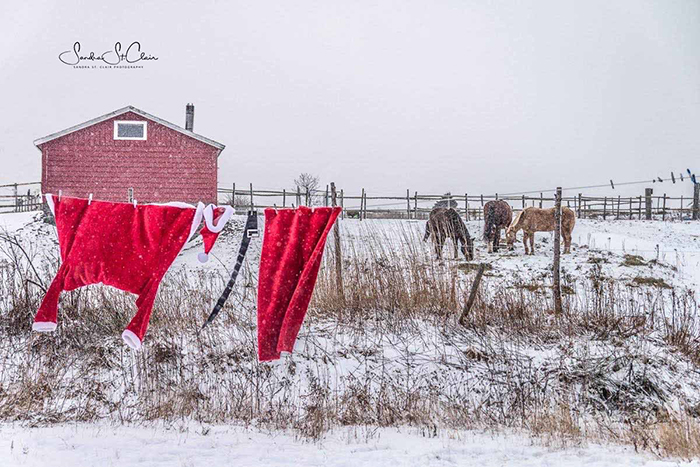 Mark Aitken
#Christmas Portrait
And the Overall Winner Is…
Congratulations to Elizabeth Burk for becoming our 2019 12 Days of Christmas Photography Contest Champion! 
We loved Elizabeth's approach to this year's contest. Her Snowman entry was a simple enough idea but the execution needs to be perfect – and it was.
Compositing photographs together requires a seamless transition from reality to fiction. The young girl's eye line is perfectly positioned with the Snowman's eyes. The graduation from warm to cool colours are expertly split by using a window frame giving us a balanced viewpoint of the conversation.
There are so many fantastic elements that made this shot a worthy winner it's hard to list! Instead, we wanted to hear from the winner herself and announce the great news…
This is wonderful! I am beyond honoured!
My hope was to win just a category, so to see this in my email was heart-stopping, thank you so much for this opportunity!
I love the feeling that Christmas magic brings to little children and to be able to capture that feeling is priceless and mould it into art so that all can feel it through the photo.
Photography in 2020 for me will still be a hobby, I enjoy creating images and working toward art. I hope to write a book and use my images there to capture the feeling that I am to express!
Thanks again for this wonderful honour. I am thankful to have the iPhotography community to learn more!
2019 Photographer of the Year Countdown
There have only been 5 previous winners of POTY so this year's champion is in a prestigious group. Though the iPhotography tutors selected the shortlist of 25, it was you who voted for the overall winner. This year's contest was open to the general public too, so we've had a record number of votes cast.
To make it on to the list in the first place is a hard task.
Our tutors review your year's uploads and look at aspects of development, consistency, creativity, engagement and execution. It's not about a one-off shot, this is about your entire body of work and attitude as a photographer in the community.
In previous years we've only announced the Top 3 places but this year we've expanded it to include the Top 10. Without further ado here is the countdown starting from 10th place…
And the 2019 Photographer of the Year is…
Congratulations to Barbara Coulson for becoming our iPhotography 2019 Photographer of the Year!
Barbara has been part of the iPhotography Community since 2015. Often joining in with our #WeekendChallenges, she's never afraid to be bold and eye-catching, her shots are always well executed and never overdone. Barbara has a great eye, and that's clear in her work, but her passion and best work lies within the realm of wildlife and nature, which was the centrepiece of her 2019 POTY nomination. 
I am absolutely delighted to be named iPhotography's POTY!
I can't quite believe it, as I was up against some incredibly talented photographers across a wide range of genres. Thank you to the iPhotography team and everyone who voted for me. I am so glad you like my photographs. 
This year I hope to work further on more wildlife photography, plus explore the wonderful world of Photoshop, with the iPhotography PS course. What a great way to start the new year!
iPhotography Course not only teaches you all the standard technical expertise, settings, skills, and special effects with your camera – but we also show you how to use these skills to develop your own individual style as a photographer.
5 TIPS to help you improve FASTER as a beginner photographer! Learn how to stay calm, objective and rational when taking constructive criticism online.
Have you ever thought what lead you to the life behind a camera? iPhotography looks at the top 5 reasons why people become a photographer. Read More…
Lightroom for beginners ONLINE TRAINING COURSE. Discover the power of Hue, Saturation, and Luminance sliders. Completely transform your photos in one swipe!

Learn the iPhotography™ Way
Learn the iPhotography™ Way