Stretch Effect
Editing Tutorial with Pixlr X
If you fancy yourself at pushing your photo editing skills, then this is a brilliant (and easy) tutorial to start off with. To demonstrate how straightforward creating a stretched photo effect is, we aren't even using Photoshop. Instead, we're using the free-to-use Pixlr X Editor.
If you're familiar with Photoshop already, you may find some of the tools similar but even if it's your first time editing then you're in safe hands with us.
What Does This Guide Include?
Step 1: Choose an Action Shot
Firstly, find yourself a suitable picture to stretch. Action portraits are really good to use, if you don't have any then search some free stock sites such as Unsplash, Pexels or Pixabay to get yourself a good starting point. Look for shots with a clear background and outstretched limbs like these:
Step 2: Cut Out Your Subject
Next, with your image chosen, we need to cut the subject out from the background.
In Pixlr, select the Lasso tool (1) from the vertical toolbar and then choose the Polygonal Lasso (2) option from the horizontal toolbar above. It'll make your selection more accurate.
Zoom in close and begin by setting an anchor point along the body and move your cursor to set the next and just keep doing this to create an outline of the person.
It may take a while, but more accurate outlines make better results.
Step 3: Create a New Layer
Moving on from our selection, it's time to separate them from their background.
First off, using the menu bar at the top, choose EDIT>COPY, then LAYER>NEW LAYER so we have a space to put our cut out on.
With our new layer active on the layers panel, return to EDIT and this time select PASTE, so our selection ends up on its own layer.
You can delete or hide the original photo if you want, we won't need it anymore.
Step 4: Draw out a Single Line Selection
Instead of manufacturing the stretch effect using shapes etc, we are going to use our subject to provide all the colours. Make a single line marquee selection across the middle of your subject.
Try to make the selection as narrow as possible, but above all aim to include as many colours in the picture as possible. Similarly, to how we transferred our subject on to a new layer, we need to do the same with this single line selection. Follow these steps again;
EDIT>COPY
LAYER> NEW LAYER
(with the single line selection active) EDIT> PASTE
Step 5: Stretch Your Selection using Filters
Next, we need to expand the single line selection to start the appearance of the stretch effect. Activate the layer with the single line on and go EDIT>FREE TRANSFORM. You'll get some little blue dots on the edges of your selection, hover your cursor next to one and push it around so the horizontal line becomes vertical.
Now pull the anchor points apart and you'll have a colourful selection of stripes. Now comes a magic trick…
With the stripey selection active hop to FILTER>POLAR COORDINATES and stick with the first option of 'rect to polar'. Your bank of stripey colours has now become a colourful circle. Yippee!
If you've got some straight edges on your layer, select them using the magic wand tool and erase them to make the circle more, well…circular!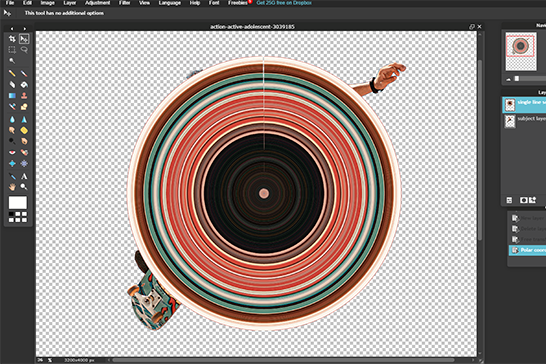 Image: Stretched selection transformed using polar coordinates
Image: Erase the areas of the circle that cross over the subject
Carrying on, position the circle over your subject and swap their layer positions, so your subject is on top.
And finally, we're at our last step. It's just a case of erasing areas that cross in between some of your subject's actions. This is why outstretched limbs are a good feature for this type of edit as they can mark out start and endpoints to your effect.
Set your erase to 100% hardness and brush away parts of the circle to make it look like arms and legs have created this stretched trail of colour!
Tip – Don't forget to merge all the layers together when you're done so you can save it as a JPEG or PNG.
Stretch Effect Edit Summary
To summarise, how easy was that?! It cost you 10 minutes of time, but nothing more than that. It just goes to show you how fun, quick and straightforward photo editing can be with iPhotography.
If you want to learn more about creative editing using professional software such as Photoshop, then we've got 3 brilliant courses for you to try out on iPhotography Photoshop. Just choose the right level for you and get started straight away by clicking here.
Above all, we want to see your attempts at this stretch effect, don't be shy now! You can't spend time trying it out and not showing off your newfound skills. Get those edits uploaded to the gallery and our teaching staff will be keeping a keen eye out to give you feedback.
Other articles connected to this topic;
iPhotography Course not only teaches you all the standard technical expertise, settings, skills, and special effects with your camera – but we also show you how to use these skills to develop your own individual style as a photographer.
You don't need an expensive camera to take fantastic photos. Story, composition, and lighting are much more important. Let's see why!
The iPhotography Course has been UPGRADED! The new design for 2020 includes new& faster modules, extra downloads, videos and so much more. Click for more.
Perfect newborn photography tutorial with tips on lighting, best camera & lenses, props, how to set up a studio and promoting your business.

Who Are Photography Classes Made For?
Are our classes made for you? Well if you're brand new to photography or been practising for a little while but starting to hit a wall then, the simple answer – YES! 
Whether you have just bought a camera or have spent years behind the viewfinder, our photography classes are comprehensive, educational, honest and cutting-edge – there are no other courses like it (believe us, we checked a lot!). 
We're like the Wikipedia of photography – all of the answers are under one roof.
3 Ways to Use Natural Light
Sunlight can be discussed using a few different photography terms and approaches. There are normally 4 considerations photographers look at when using natural light in their photos - Direction, Colour, Intensity and Quality.
1. Direction
In which direction is the light falling? Is the direction of the light where you need it to be? While it's very hard to change the direction of natural light unless you're using reflectors you may have to move your subject into the path of the light to get the right finish.
There are 3 main directions that you can use natural light in a photo;
FREE

- Optional Assignments

Some of our classes offer personal critiques and constructive feedback from qualified photography tutors. Receive 1-on-1 advice and tips from the experts.
5 Top Architectural Photography Tutorial Tips
How to Be a Nature Photographer
Going from a beginner nature photographer to making money from your camera you need dedication. It requires time and a never-ending passion to get outdoors with your cameras and practise new techniques. Get outdoors early and return when the sun sets.
Get familiar with your local woodlands and read nature books to learn about wildlife, birding and foliage. This will help you understand what you are shooting and when is the best time of year to find these subjects.
What Does This Guide Include?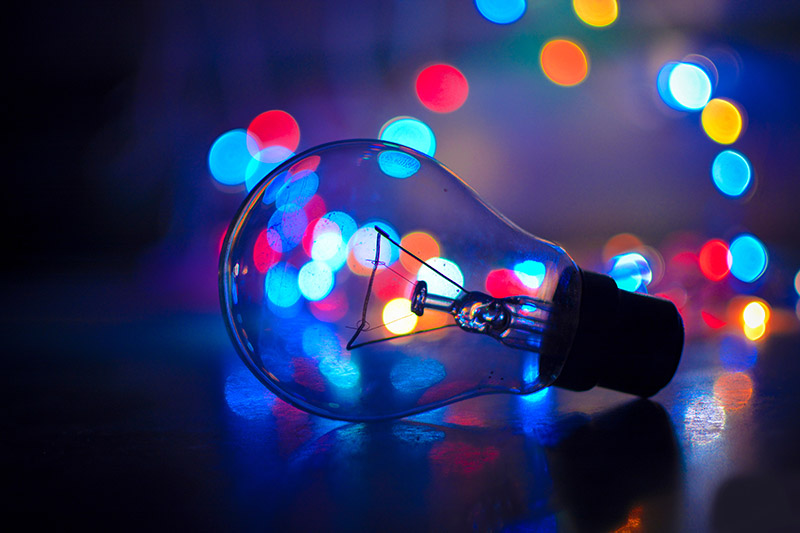 The other challenge when shooting through glass is the tinting. Unfortunately, architects and designers didn't think about us photographers when creating these skyscrapers.
Their windows are invariably tinted in some way to help with heating.
This means that some of your photos may have a green/grey tint to them.
It's not the biggest issue as you can rebalance this tint in editing with the 'tint' slider for example.