Photography Techniques: 6 Tricks You Can Do with a Camera
photography techniques
We all get an urge to go and take photos but sometimes the ideas just elude us. So, what photography techniques and tricks can you try with your camera?
Here are our 6 top techniques to try with your camera (or even using a smartphone).
What Does This Guide Include?
1. Zoom Burst
All you need is a camera with a zoom lens. It's best to have a stationary subject for zoom bursts and your camera on a tripod. Slow the shutter speed down to around ½ of a second.
Start by zooming in to your subject and focus, as soon as you take the shot twist the lens barrel as smoothly as possible and zoom out.
The resulting shot will pull the waves of light to make it look like you've engaged warp speed!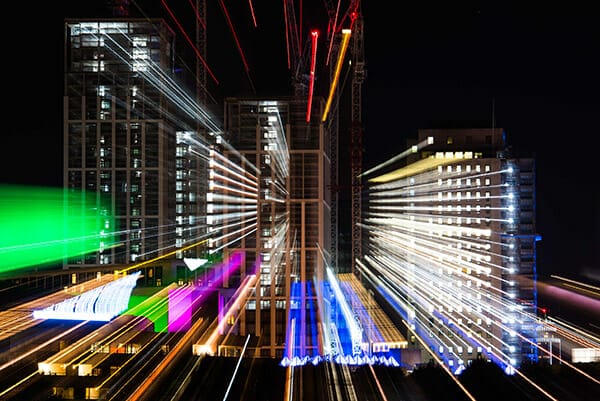 Being able to composite the shots afterwards using software like Photoshop is really useful, but the initial shots can be taken on any camera.
Start off with your subject on a spot and take a shot. Move the subject and your camera forwards a step – take another shot. Repeat this process again and again so you end up with a raft of images, each looks like they are moving further into a scene.
1. Using Photoshop, layer all the images together in order of how they were taken and click WINDOW>TIMELINE and change the drop-down to FRAME ANIMATION.
2. Select from the small menu bar MAKE FRAMES FROM LAYERS.
3. Select all the frames and change the timing to 0.2 seconds and put the effect on LOOP.
4. Save the file through FILE>EXPORT>SAVE FOR WEB (LEGACY) and as a GIF file format.
3. How to Do Panning
A great camera technique for isolating motion in a busy scene. Pop your camera on a tripod and set the shutter speed to 1/15th. Set your focus mode to continuous and tracking where possible and wait for a car to cross your scene.
Track the motion before, during and after taking the shot. Only take the shot when the subject is directly opposite the camera.
The final effect, providing you've got the panning motion and shutter speed correct will freeze the action and blur the background. You may need to repeat the technique as the timings are very delicate. Prepare to be patient – but it's worth it.
4. Ghosting Photography Trick
Whereas panning is about blurring the background, ghosting will blur your subject. It requires no movement from the camera, instead, that comes from your subject.
Keep the camera on a tripod and suppress the shutter speed to 1/30th. Focus on the background and wait for a passer-by to walk across the frame. Take the shot as they are mid-frame and you'll be left with a ghostly blur trailing across your frame. This is the exact same process that you need to consider when capturing light trails too.
5. How to Do a Double Exposure
Check out your app store to let you try this camera technique on your smartphone. Double exposures are where two images are overlayed onto each other creating an abstract effect.
Aim to make your first shot a silhouette and the detail and colour of the second shot will fill in the black void from the silhouette. Look for objects that work together.
Tip – Check out this full guide on double exposures for further inspiration and tips. Click here.
6. Editing a Colour Splash
Lots of cameras carry creative filters to add a little fun to the art. Some photographers dismiss them, but ones like colour splash (or partial colour), are cute camera techniques to play with when you are just beginning.
Look through your camera or app store to find a good colour splash feature and go hunting for the right type of subject. You may be limited to only using red, blue or green tones, but it provides a good challenge to your creative eye walking around the house to see where you can try it out.
Tip – Check out this full guide on creating colour splashes in Photoshop for a more professional look. Click here.
Have you tried out any of these 6 simple and effective camera techniques? We'd love to know. If you're an iPhotography student, then post your efforts in the gallery so we can see.
If you know any more camera techniques that you can try out with any camera then get in touch and let us know.
Other articles connected to this topic;
iPhotography Course not only teaches you all the standard technical expertise, settings, skills, and special effects with your camera – but we also show you how to use these skills to develop your own individual style as a photographer.
Should you help out your fellow photographers and share your tips? For example, imagine if you're earning money as a commercial photographer.
paint powder photography can be so much fun. Here are some beginner tips and tricks to get your well on your way to your first paint powder photo shoot!
Get the breakdown on how to shoot high key photographs. An easy guide for beginners to capture striking and beautiful pictures – perfect for portraits!