10 Props Every Photographer Needs
To keep your mind creatively thinking you need a box of go-to photography props.
You can call on these photography props when your motivation and inspiration are low or if you just want to add in an exciting element to your photography in accordance with your style. Whether it's newborn photography props, easter photo props or portrait photography props you're looking for it's great to have a little stash of fallback items to use in your shoots.
You can add more to this list depending on what fits your fashion but here are 10 photography props we believe every photographer should have (and the ideas you can create with them).
Surely you'll have a spare CD around the house somewhere, just make sure it's not your favourite!
These are great photography props for adults and kids. The underside of the disc has iridescent properties which makes this a perfect photography prop to reflect or distort light as foreground bokeh.
It can even work as a standalone subject if you want to spray on a little water (we'll come to that shortly).
Photography relies on light so if you've not got one to hand you're missing out. Talk about cool props for photography – this one doesn't get much cooler!
Packing a torch or our favourite LumeCube is a handy portable photo prop to call on to add shape, dimension and shadows to any given subject.
Try moving your little light around your shot to see what effects you can create. Low down, high above or backlighting – give it all a try and best thing is, there are no wires involved!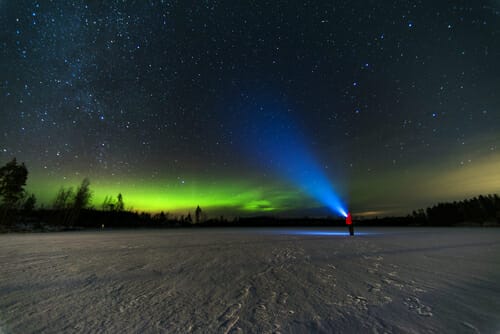 Fractals of any sort can add a great sense of abstract distortion to any photograph.
This precious prop can be smooth like a glass ball or multi-sided like a prism, either way, make sure you opt for glass and not a high-quality plastic, as the better the optics the better the light quality it'll refract.
Use your small light and shine it at a 45-degree angle to the prism to show all the rainbow colours falling on your subject for a creative finish that involves no editing!
They aren't just for Christmas trees (as you could use them as easter photo props too) but fairy lights, the battery-powered portable ones, are superb photography props too! Use them as a quick addition to the back or foreground of a shot when you're working with a wide aperture (small F/number i.e. F/2.8) to create some beautiful orbs of bokeh surrounding your subject.
Want more photography props ideas? OK then! You may need a little more space in your prop box for this but having a few shades of coloured card is an instant photography studio you may never think of.
Stack it up against a few books to create a smooth infinity curve and start shooting any type of product you want. Combine your small light and you've already got yourself a mini photo studio on a shoestring.
For shooting bigger objects pick up A1 or A0 sizes that are over 300gsm so they don't bend too easily.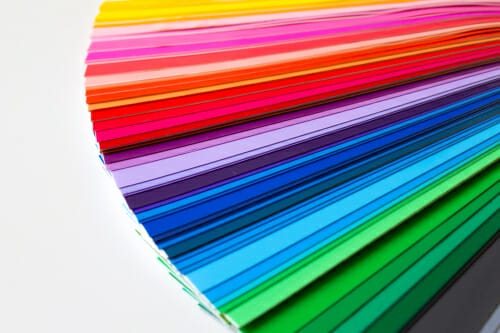 It has more purposes than checking makeup, well for photographers it does. A pocket-sized mirror adds the reverse perspective to a photo making the composition look conflicting but still interesting. It's a quirky way of bringing yourself into the shot alongside your intended background. 
Sometimes you can get hold of a sample pack of small gel strips from manufacturers which carry all their available filter colours.
This is a low budget photography prop that you can instantly stick over your camera's flash or partially cover your lens to cast different tones over skies and other subjects.
Some packs have over 20 colours included giving you a playground of creative colours!
We mentioned it in combination with the CD earlier but this ain't no one-trick pony! A spray bottle filled with 90% water and 10% baby oil will give any subject a natural wet look that doesn't instantly drain away.
It's cool to use this photo prop on flowers, metals, glass and mirrors to create little droplets of water. Change the water-to-oil ratio for different consistencies.
The humour of a miniature world can be carried with you wherever your camera travels. Whether it's those little model railway figurines or even just some Lego characters then you can throw them into the foreground of a giant landscape to add a sense of scale or a little bit of fun! You can even get miniature photography furniture props to add to the scenery.

This one is flexible based on your interests but the point is the same – pick something that represents you. Most of us have a treasured possession and if it isn't too big then why not incorporate it into your photography.
It could be a subtle addition that your audience has to find or a series of images of this item in different locations. 
Either way, it's all about putting your personality into your photography and making it totally unique. It could be a favourite book, hat, jacket, badge, drink or scarf. See how clever and crafty you can be.
Which one inspires you most? If you try out any of these ideas we want to see your shots in the iPhotography gallery. In time you'll curate your own prop box and call on these favourite things to make your photography creative at a moments notice – it looks great in front of clients too!
How many of these photography props are in your prop box already?
How many will you consider adding? 
Or are there other items we've totally overlooked? 
Search for 'photography props on Amazon' to start building your photo prop box. Let us know we'd love to get more ideas for this list. Contact the tutors via the iPhotography website or find us on social.
iPhotography Course not only teaches you all the standard technical expertise, settings, skills, and special effects with your camera – but we also show you how to use these skills to develop your own individual style as a photographer.
A good ol'photo walk is a brilliant way of peacefully and patiently learning about your camera in spontaneous moments. So we decided to try one out and explore the benefits.
Find out how iPhotography student Terry Holdren creates these stunning textural floral photographs. A simple guide for beginners that takes minutes! Read…
Meet Matt Matthews – pro boudoir photographer. He's hooked up with iPhotography tell us what it's like creating amazing, sensual portraits.