photography gadgets
Photography Gadgets
6 Accessories to Keep you Inspired
photography gadgets
Author: Emily Lowrey (iPhotography Tutor)
Photography gadgets can help us come up with some new creative ideas. They can be quite inexpensive and so helpful for us on our photography journey.
Perhaps you're looking for your next purchase, or maybe you have a budding photographer in your family and would like to buy them a fun gift. Whatever the reason, let's have a look at some great photography gadgets and accessories!
Prisms come in all shapes and sizes and are an affordable way to get some great effects. A favourite for photographers is the triangular-shaped prism.
You can put this over your lens to create some really interesting results.
You can use prisms creatively to bring reflections and different elements into your image. You can even use a prism to remove distractions from an image in a pinch by reflecting them away.
One thing to bear in mind when buying your prism is to think about which lenses you will be using it with.
It's important to purchase a prism long enough to cover your lens so that your fingers don't get in the way of your image. Check an example on Amazon here.
LED panel lights come in many different sizes, are usually battery operated, and you can use them in so many creative ways.
Of course, you can use them first and foremost as key lights to illuminate your scene.
But the fun of these photography gadgets doesn't stop there!
There are loads of interesting ways to incorporate them into your photography.
You can use an LED panel light in light painting. For this image, using a long shutter speed, just a flash of the LED panel light will do before moving it along to the next position. Then you can move it along to create this fun effect.
Read more about small LED lights here.
There are two types of LED panel lights.
You have your standard white light panels, which will usually only give you control over the temperature of the lighting.
For creative photography, the better alternative is an RGB LED panel light.
With these lights, you can change the panel to a number of colours, from red to purple to blue, and you can have much more fun.
As you can see from these portraits, you can change the entire mood of a photo just by changing the colour of the lighting.
The LED panel light was facing the brick wall in this setup to create this effect.
LED panel lights are great for product photography. If you have contrasting lighting colours on an object, the results can be great.
This effect was achieved with the LED panel light set to red, and ambient light.
You can get body cap lenses for certain cameras, such as Olympus and Panasonic. The lenses are very affordable and are designed to be used instead of your body cap on your camera. As you can see, these photography gadgets are very small.
While they are small and cheap, they are sometimes really fun to play with! The results can be surprisingly good. If you're looking for a cheap way to get your creativity flowing, these lenses can be ideal. They're small enough that you can always have them on you, and they can make otherwise larger cameras much more pocketable.
Even if your camera doesn't accept a body cap lens, there are plenty of great, cheaper, lenses to consider. Search "Lomography" and see what your camera can use! Here is the Lomography website.
Below are some photos taken with the Olympus 15mm F/8 body cap lens.
Mist – or bloom – filters are a great addition to your kit. They add an extra "vintage" feel to your images and help to tone down that clinical, sharp, digital look.
The effect is most noticeable in the brighter parts of your images. The highlights bloom, and are much less harsh and clinical. It can be a very pleasing effect, especially for portraits, and also really pleasing for night time photography.
Here is a link to a mist filter on Amazon but, as with all filters, make sure you purchase the correct size for your lens.
5. Lenses for Smartphones
You know the old saying: "the best camera is the one you have with you". Well, just about everyone has a phone with them at all times.
Getting some high-quality lenses for your smartphone opens up a whole new avenue of creativity for you with these simple photography gadgets!
You can get a whole range of lenses for your phone. You can either buy them with a dedicated case so the lenses can just screw on and off your phone, or attach them with a clip.
The fisheye and macro lens gadgets are particularly fun to play with, and can give you surprisingly wonderful results!
Below are some example photos taken with the Sandmarc iPhone lenses.
BUYING TIP: Just remember that you do get what you pay for with these types of lenses. There are a lot of cheaper versions available to buy online. If you invest in good quality glass, you will get much better results.
If you have a more modern camera, the chances are you will be able to take time-lapses with it.
You can set your camera up on a tripod and simply let it capture the world as it moves. But you can also add in additional movement to your time-lapse photography to make things a bit more interesting.
You can buy "egg timer" motion time-lapse capture devices, which slowly rotate your camera as it takes a time-lapse, to create some really interesting results!
Hopefully, these photography gadgets will get some ideas flowing for you! Sometimes you need a little push to get out of a rut.
If you take any photos with these ideas in mind, we'd love to see the results in the iPhotography gallery!
You can listen to our podcast below, where we discuss each of these gadgets in more detail!
iPhotography Course not only teaches you all the standard technical expertise, settings, skills, and special effects with your camera – but we also show you how to use these skills to develop your own individual style as a photographer.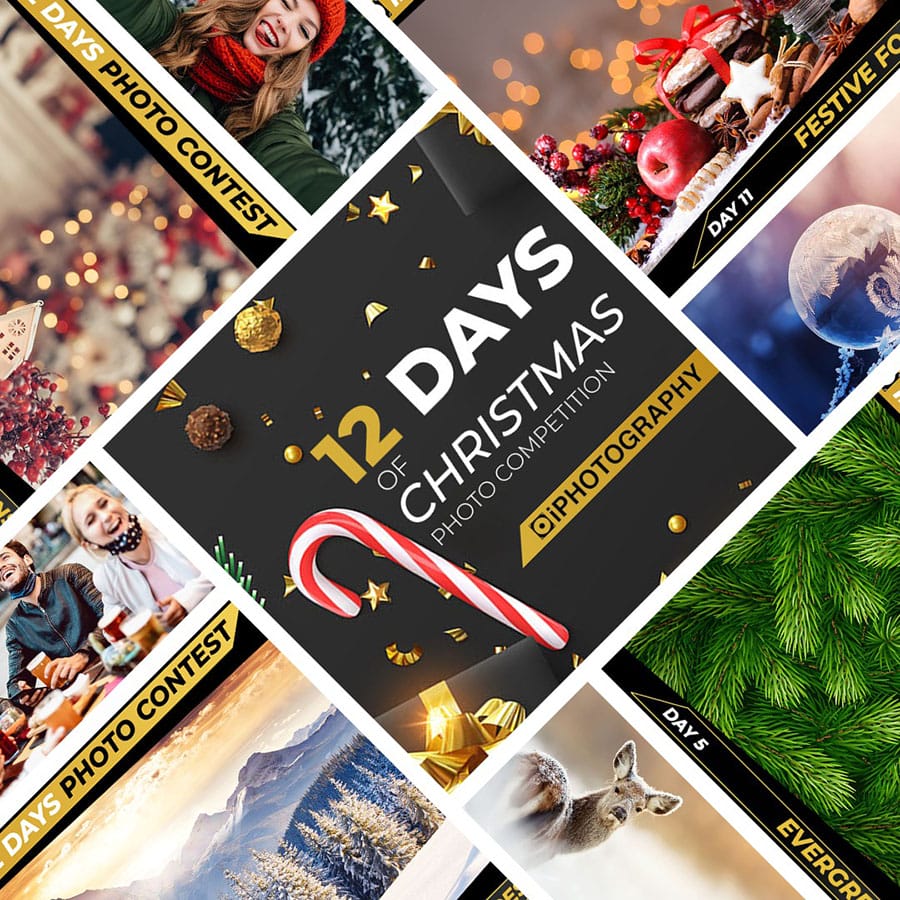 Enter our 2021 iPhotography 12 Days of Christmas photo competition and win exclusive prizes. Hurry up and join iPhotography to play!
Struggling to make your pictures and colours pin-sharp using a kit or entry-level lens? Chromatic aberration may be at fault. Find out how to get rid of it.
iPhotography specialises in photography classes. CHOOSE from our 18 photo & editing courses to start. Discover our FREE Photography Course!