Online Course v College
Are formal educations 'soooo last year'?
Online Course v College
While sitting down writing a new blog for iPhotography we pondered, 'What's the best; an Online Course v College Degree?'
With all this content we produce, we've never stopped to think (until now) how much you learn through online courses in comparison to a 'formal education'. 
To find out the answer to this hypothesis then we need some evidence to form our findings. Just like in science class, we need to do some heavy researching, complicated mathematics and launch a probe into space…only joking – we're no good at maths.
Instead we'll look at some of the best photography courses at esteemed universities and colleges across the world.
Online Course v College: Who are the Challengers?
Spending some time researching, we have subsequently managed to narrow down our challengers. Namely, Falmouth University in the UK, the University of Southern California in the USA and the Griffith University in Australia. They are all formal establishments that host highly respected photography courses and have searchable curriculums for us to compare against.
In addition to course curriculums, we will also look at some of the attending fees, because it's not only what you learn but also how much that will cost you in the long run. In brief, these figures will be as accurate as possible at the time of publication (providing the school's figures are up to date), but we will embed links to sources we use just to be fair.
Let's start the experiment…
Online Course v College Curriculum  
By the way, it is tricky to find out the exact topics on each school's curriculum as they like to keep it a closely guarded secret from other colleges/universities. Therefore, we can only go by what information is available on their official sites. Some of their curricula sound a little vague and they do say topics are subject to change. In this Online Courses v College Degree comparison, iPhotography topics will be assessed across our current 3 courses (iPhotography, Light Tricks and Portrait).
Consequently, we can only legitimately tick off subjects that we can see in their available curriculum/prospectus' – more elements may be covered but won't be assumed unless we can find evidence of it.
In this case, we got from the 3 curriculums in our Online Course v College Degree comparison was that there is a heavier focus on how photography impacts the lives of society in a more artistic manner. Besides that, there wasn't as much evidence to show learning about the technical aspects and basic building blocks of camera functions. Therefore, this may lead to suggestions that this information is already known before joining the course – possibly from middle school photography classes.
Generally, with iPhotography we assume no prior knowledge and no experience behind the camera is necessary is needed to start any of our courses. We write each of our courses from the ground up, ensuring that a brand-new beginner can understand aperture, shutter speed and lots of other things – without having to have taken a feeder course first!
Online Course v College Essays
To begin with, in a formal education setting your time will be split between practical exercises and assignments, essays and dissertations alongside periodic exhibitions. In short, each school we investigated varied in this ratio but typically it is a 25/75 split towards practical elements.
Whereas iPhotography is 100% practical, there are no written submissions required. Our optional module assignments are generally available with a downloadable brief to work but we fully encourage that your time is spent behind the camera trying out the techniques you've read about. Ordinarily, the time spent reading through the modules will vary student to student, based on your free time, but ultimately, we're not going to make you write a 5000 essay!
We have a no pressure approach, you can hop online whenever you're free, we don't have live classrooms or deadlines so when you're ready to learn – we're here for you.
Online Course v College Price Comparisons
We've tried to be as fair as possible when comparing fees for courses, but it was going to be fairly obvious that iPhotography was always going to be value for money in comparison to a College Degree! (That's not why we wrote this blog though). It was truly to see how much of a difference there was in the expenditure and whether you got that value back in an Online Course v College Degree comparison.
These figures are solely tuition and searchable course fees, they don't take into consideration living costs if you have to move away to study. But obviously, you can study iPhotography from home, work or on the go (if you have mobile internet) so we've got no extra costs!
£1,350
(6 courses, lifetime access)
£86,000 
(3 year tuition fee total)
£81,904 
(4 year tuition fee total)
£46,522
(1 year tuition fee total)
In addition, you don't need to have a high-grade DSLR camera to take any of our iPhotography courses, whereas some colleges and universities may expect you to carry camera equipment with certain minimum requirements. In brief, it's just another advantage of our Online Course v College Degree.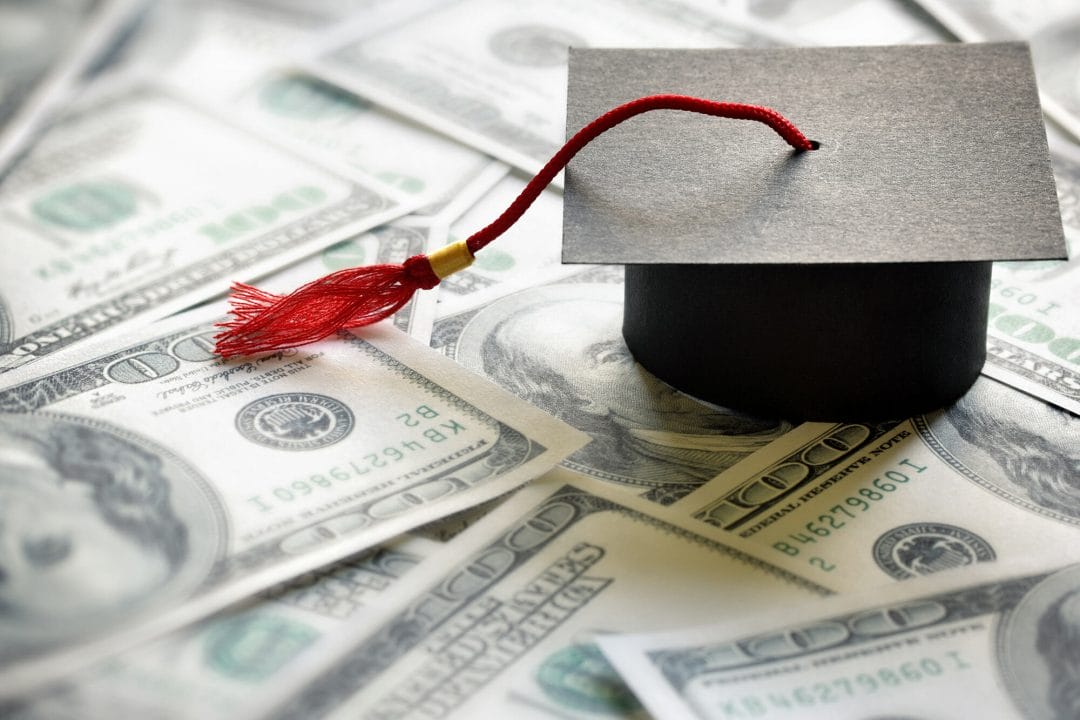 Online Course v College Life
Given the large financial gap between our Online Course v College Degrees, then there must be a huge range of extras that aren't available with online courses that you can only benefit from if you attend these types of schools? So then, let's look a little deeper:
Access to professional tutor/lecturer 
Meet other photography students
Guest lecturers and speakers
Exhibitions of personal work showcased
Access to professional grade equipment
Libraries of photography books
No distractions of work/career
Access to pro qualified photography tutors
Feedback for photo assignments
OK, to summarise, there are maybe one or two areas in the Online Course v College Degree comparison that we fall behind on, but does that make up the financial gap? You decide.
Above all, at the end of any course, it's all about the graduation and how it's going to benefit you in the future.
Universities and colleges will issue successful students with a degree which looks great on CVs to future employers.
It has been said that many employers who are looking for photographers have looked for experience in the field over formal education in recent research.
However, don't forget that iPhotography is also a certified course too. iPhotography is certified by CPD. You can find out more information and details regarding our accreditation by visiting https://cpduk.co.uk

However, we've got a couple of aces up our sleeve too which those big colleges and universities don't know about! 😉
Every Tuesday, Wednesday Thursday we have a great #POTD title to hand out to a student who have uploaded a brilliant photograph in the past 24 hours. Furthermore, every Friday we announce our #WeekendChallenge and test your photography skills against a random topic. As an example, we have hundreds of entries every week – and when dogs are involved, we lose count!!!
Next, we've got a huge training library of downloadable resources about how to use your DSLR camera, making money from your photography, digital photography basics and more.
By the way, wave you seen our camera simulator too? It's a brilliant interactive 3D feature we've got on our iPhotography dashboard page where you navigate yourself around a typical DSLR camera and find out what all the feature, functions and buttons do. Perfect for learning about your camera.
We also give out awards every year to out top performing photographers as voted for by our iPhotography students, so even our students can graduate with summa cum laude (first in class) honours.
Summary: Online Course v College Degree
To sum up, who's the winner? Well, we don't want to brag but… it's down to you!
In honesty, everyone wants something different out of a photography course. Some people just want to learn about their camera and how to take good snapshots.
Conversely, others want to explore the art of photography and its relation to society, so it's hard to give you one clear winner.
To summarise, what we have discovered is that even just learning the basics of photography doesn't really require you to go to college and spend thousands on an education that you can get for a snip with iPhotography!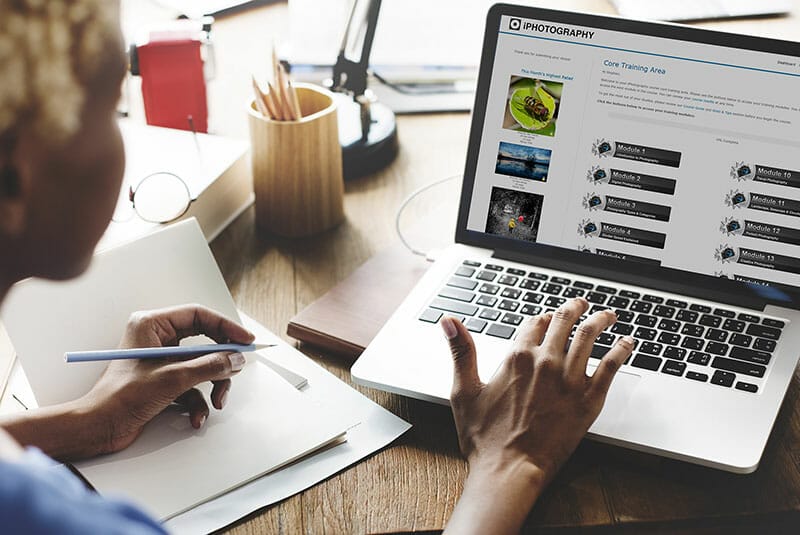 iPhotography Course not only teaches you all the standard technical expertise, settings, skills, and special effects with your camera – but we also show you how to use these skills to develop your own individual style as a photographer.
A great guide for landscape photographers! Get pratical camera and editing tips. Learn how to improve your shots with HDR Photography.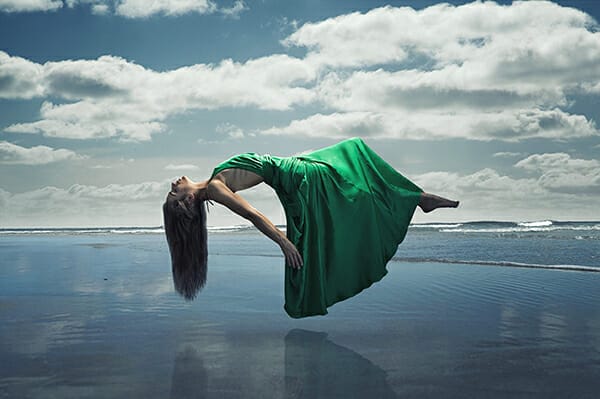 Suspend your disbelief with this powerful guide to levitation photography. Learn easily how to set up, shoot and edit these conceptual masterpieces.
Spend some time with your furry friend and capture some pet photography portraits. We've got 5 quick tricks to make your shots look awesome!