Mother's Day photography must start with us DEFINING THE WORD MOTHER: Wife, Sister, Lover, Housekeeper, lifesaver, chef, mentor, teacher, guardian angel, nurse, coach, storyteller, monster killer, planner, organizer, decorator, crafter, best friend, multi-tasking queen, superwoman…
…a woman we couldn't live without.
Mother's Day photography on Mothering Sunday should be a day spent honouring the women who brought us into the world. A pretty big deal huh?
So, if you are looking to surprise your Mum on this special day, there is nothing more unique than with a little bit of Mother's Day photography. Therefore, this will be a great way to spend time with your family and a perfect opportunity to get portraits of motherhood, mothers to be, and even the Grandmothers.
To begin with, before we grab the camera to hand, let's take a step back for a second ** and breathe**… Mother's Day photography requires a CONNECTION which gives your image MEANING.
Furthermore, this is what keeps your image alive, and keeps the viewer's attention, so it's pretty vital you master and understands this before taking your shots.
Mother's Day Photography Tip:
With shots that are personal and family focused, whether it's Mother's day, or not, the best way to get that 'connection' (we keep talking about) is to keep things NATURAL and CANDID!
From the shots below you can see two very similarly positioned shots with a Mother and Daughter. The first, although technically very good, is very posed – it comes across a little forced, with a mountain of cheese grated on it.
Secondly, the next shot is off the cuff and candid. Looking at the shot you can see the connection between mother and child and the photographer has captured a beautiful moment, timed brilliantly. The shot might not be technically perfect, but it's a spontaneous and intimate shot that shares a beautiful story.
Mother's Day Photography Tip:
Therefore, timing and a good eye are crucial if you want to capture those special moments!
So, what story do you want your image to convey?
Let's start by thinking about what the term 'Mother' means to you…
• Is mother is a form of unconditional love?
• Or mother is knowing you are protected, guarded?
• Could mother mean you are never alone, she is always there?
• Maybe mother is always being able to go back to being a child in her presence?
Mother's Day Photography Tip:
Think about this as preparation for your Mother's Day photography before simply shooting. Why not write a list?
However, what are your favourite memories with your Mother? What activities remind you of her? Does she have a particular style or look that is significant to her personality? Is there anything unusual that can demonstrate your connection, such as a particularly special item or object?
Usually, annual family portraits or your traditional family Christmas card shoot, photographs illustrating motherhood are often staged. Some may be posed set-ups of love and comfort that gloss over the daily trials experienced by mothers— from the physical demands of pregnancy to the difficulties that arise when raising those demanding teenagers.
Let's twist this typical Mother's Day photography shots on the head and approach it from a different angle.
WARNING: By the way, no posing on the family couch shots are allowed!
click the headings below to view more
It's the morning of Mother's Day, and what mum wouldn't want breakfast in bed?
Whether you're a mother to be, daughter/son, grandchild, why don't you use this as the perfect photographic opportunity to capture the smile and surprise on the face of a loved one.
Use this opportunity to get some natural shots, lazing in bed with family. Dads can get involved too!
Don't forget if you want to get the whole family in the shot to use a timer, a remote shutter release or try time lapse for some more natural shots.
If you aren't a great cook, or don't trust the kids in the kitchen, then why not try similar shots but with the giving of gifts? Flowers, chocolates and cards… all the best gifts for Mum.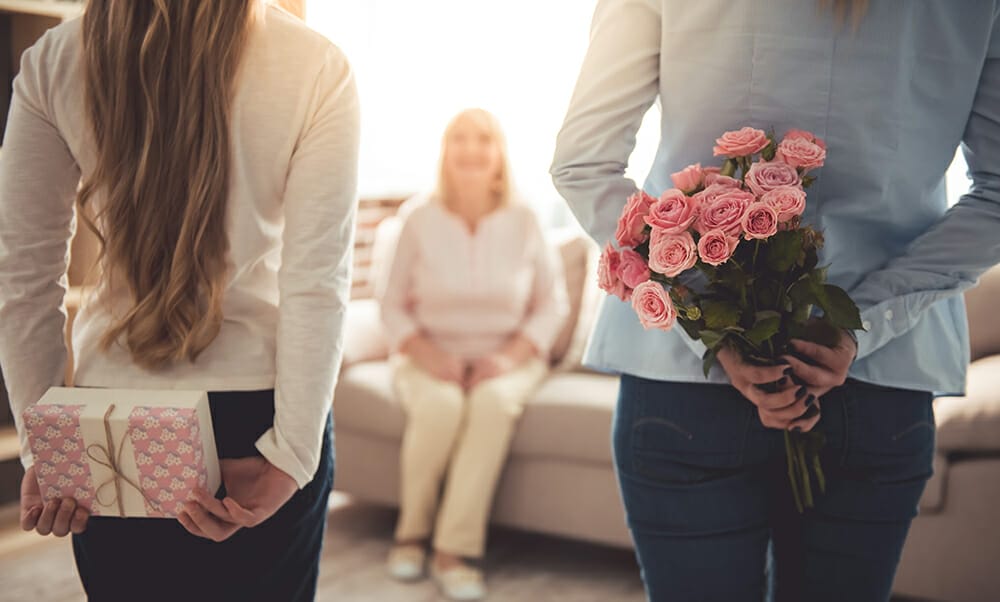 This is one for those of you who love a little TLC… so let's think candid – set up your self- timer and try this. Get your dressing gowns on and have a pamper morning on Mother's Day. Think facemasks, rollers, makeup and nail polish!
Alternatively, you could both sit at the mirror and apply make-up simultaneously. Try using a remote trigger, or if you have a time-lapse function on your camera use that to capture some fun moments.
Things you could do: Alternatively try putting each other's make up on, brushing one another's hair, dance around the room in your robes, slice some cucumbers and be silly with face masks, read magazines, drink tea, eat cake! Treat yourself!
Matching Outfits Darling? 
These images work perfectly no matter what age you are and are always effective when done correctly. If you can't get the same outfits or think that's going a bit too far, focus instead on the same shades and colour palate.
You don't have to break the bank with these matching outfits! Jeans and a plain white tee can work just as effectively as a Chanel suit darlings 🙂
Of course, if you were a dab hand with a sewing machine, are willing to put the work in, and have been inspired by The Sound of Music 'curtain gate' then a photoshoot like this might work for you.
Therefore, this type of theatrical and stylized Mother's Day photography requires an element of planning – everything from location and weather forecast, to hair and make-up will need to be considered before embarking on this kind of shoot.
Therefore, if you are lucky enough to have three generations present, take advantage of this opportunity.
Things to try: Why not add in props, flowers, cuddly toys, capture moments having lunch together, looking at memories shared together, look at old books and photo albums.
However, it's beautiful to see family distinctions within the face, so why not try a few side profile shots too? Keep it natural and simple to maintain focus on features.
Mother's Day Photography Tip:
Try portrait shots, with soft lighting and muted colours.
Recreating photographs of past times also tug at heart strings. However, the planning must be precise if you want this to work to full effect; you'll need to try and source the same or very similar clothing. Practice the pose and find the same location – we promise all this preparation will be worth it for the end results.
click to see an example
Have you an old photograph of your Mother in the 90's? Dig out an old shell suit and try and recreate those old school polaroids'.
If you want to surprise mum with a gift, this is a great one for all ages…
Nothing brings back great memories more than childhood photos. What better way to preserve those moments than by recreating some of them?
click to see an example
Tips for Recreating Photographs
Recreating family photos for your Mother's Day photography doesn't have to be difficult. It's a great way to bring family together and reminisce about the past!
Once again, you will need to be very accurate and detailed, but you'll get lots of laugh-out-loud moments, which makes for fabulous photography.
• Same people, same photo. Is it a photo of you and your brother? Make sure he can participate in the recreation. Choose photos that the same people will be happy to recreate.
• Choose similar clothing. You may not fit into that dress or shirt from 20 years ago, but look for similar clothing in your current size.
• Strike a pose. Was your leg bent? Did one relative sit and the other stand? Keep the same positions and try to mimic the original.
• Height doesn't matter. Time has passed – people's heights have changed. Don't worry about these differences, it will just add more humour to the photo!
• Set the right background. If you can return to the same place the photo was originally taken, even better!
Alternatively, if all that seems a bit too chaotic for you, then strip it back and keep it simple. Head shots are very effective and beautiful. Stand or lie side by side with your mum, you don't have to smile, sometimes profile shots can tell a thousand stories.
Think of it like a game of spot the difference. Especially if you look very similar to your Mother! Therefore these images can be heartwarming and emotional!
Do you have similar eyes or even the same smile? Try and focus on similarities to make the most of the shot. You'll soon see how effective and powerful these headshots can be.
Rania Matar was born and raised in Lebanon and moved to the U.S. where she began her architect and photography studies. Her work focuses on girls and women. As a Lebanese-born American woman and mother, her cultural background, and personal narrative informs her photography.
In 2014 Matar released a project 'Unspoken Conversation', focusing on Mother and Daughter. This series explores womanhood at two important stages of life: adolescence and middle age.
Namely, her images feature casual glances, hand gestures, subtle shifts in body language, physical closeness (or lack thereof), shared embarrassments and vulnerability; admissions of uncertainties became the focus of the photographs.
As an example, have you noticed that her shots aren't always hearts and flowers, nor do the subjects have beaming cheesy smiles plastered on their faces. Her shots convey the complexity of a mother and daughter relationship; they capture the 'real' connection.
Mother's Day Photography: Student Showcase
To begin with, Jessica Nightingale has been a student with iPhotography for many years, and many of you will recognize her for her recent award in our 2017 photography competitions.
We love how most of her shots focus on and celebrate woman; her maternity shots, in particular, are outstanding and magical. Jessica has such a great eye and evokes emotions through the stories in her imagery. Generally, she creates connections – not only with the subjects she photographs, but also with the viewer.
It's quite common for expectant mothers to feel anxious, insecure and often uncomfortable. Many will shy away from cameras because they look tired or feel unattractive, but Jessica knows how to gain the trust of her subjects, encourages them and presents the whole journey in the purest form and beauty – which all serves to enhance and build the subject's confidence.
She makes these women feel empowered and sexy, and this comes across in all her maternity photography. She also manages to convey the connection between mother and 'bump', a difficult task for any photographer.
As a mother herself, Jessica generally does a photoshoot every year for her daughter's birthday and has captured some beautiful, romantic images that she can treasure forever.
Word's From the Author – Jessica Nightingale
"The connection between mother and daughter (or any of her children) is so pure and so important to capture.
When I am shooting it is so important to try and get the connection, which can sometimes be hard to get across if they are uncomfortable in front of the camera.
I always tell the little ones we are going to play a game getting the kids to play with their mom and be silly will make them more comfortable with you and you will get their real smiles. I always tell them to get really close together have them whisper in each other's ears, or tell jokes to each other. Depending on how old the child is walking together, holding baby up in the air, or having mom spin around will get them both smiling and interacting together."
Inspired by what you see? Why not try and create something similar yourself!
To summarise, we hope we've spurred those creative brain cells just in time for Mother's Day! However you are spending your day, remember to snap the occasion and share your images in our student gallery.
Happy Mother's Day from all of us at iPhotography.
iPhotography Course not only teaches you all the standard technical expertise, settings, skills, and special effects with your camera – but we also show you how to use these skills to develop your own individual style as a photographer.
Astrophotography can be so much fun for new photographers. Explore the best locations, equipment and set up with our amazing beginner's tips to get started!
Reflection photography is a challenging, special type of photography that requires a decent comprehension of perspective, angles and of course an artistic eye and flair.
Wanting to sell your pictures? Or advertise yourself for hire? Read this practical guide on how to price your photography to make money!