iPhotography Course
iPHOTOGRAPHY COURSE
iPhotography Course
2020 UPGRADE
SWITCH OVER DATE
31st MARCH 2020
iPhotography Course
Back in 2012, our original iPhotography Course went live to the world. To date, over 95,000 aspiring photographers have joined and benefited from the skills, techniques and creativity taught throughout.
It's now 2020 and time for a big upgrade!
The photography industry is constantly moving forward, evolving and adding in new technologies so we need to keep up!
Therefore, we revisited every single page of our 18 module course and added tonnes more features.
In response to student feedback, the iPhotography Course is simpler, straight-forward and geared towards a faster learning experience.
In response to student feedback, the iPhotography Course is simpler, straight-forward and geared towards a faster learning experience.
Well, we could make a spreadsheet and list all the amazing changes we've made for you, but that's downright boring…instead, let's show you!
The first difference you'll notice is the 'look'!
iPhotography underwent a redesign in 2019 and now the course is catching up. We've added our livery colours to the modules alongside a brand-new presentation format.
You can now enjoy the iPhotography Course in widescreen as we change to a 16:9 ratio – perfect big screens, tablets and smartphones.
We've improved compatibility for screen readers too. Students with reading difficulties can now use JAWS, NVDA, VoiceOver, and TalkBack alongside the iPhotography Course modules. 
Want to know how close you are to finishing a module? Introducing our brand-new progression tracker. Every section of our 18 modules will give you a little update on how close you are to finishing. 
Ideal for squeezing in some extra learning during your lunchtime or the daily commute.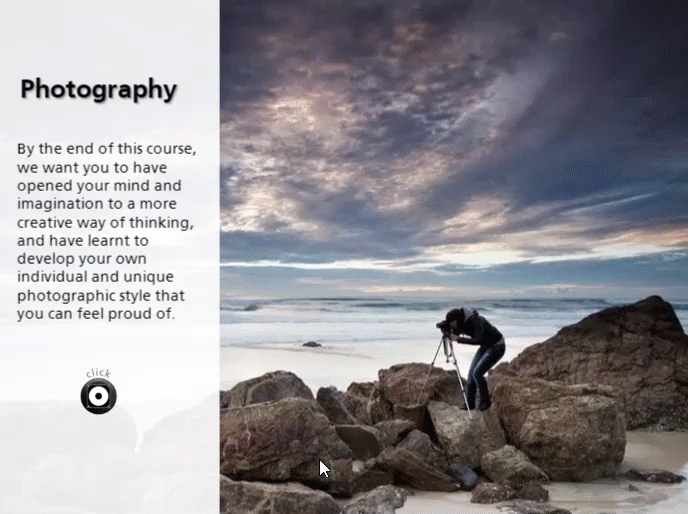 Hey current students, remember those little OOPS! pop-ups? Gone!
We've removed any obstructions in the iPhotography Course that slowed you down to ensure you're learning is smooth and simple.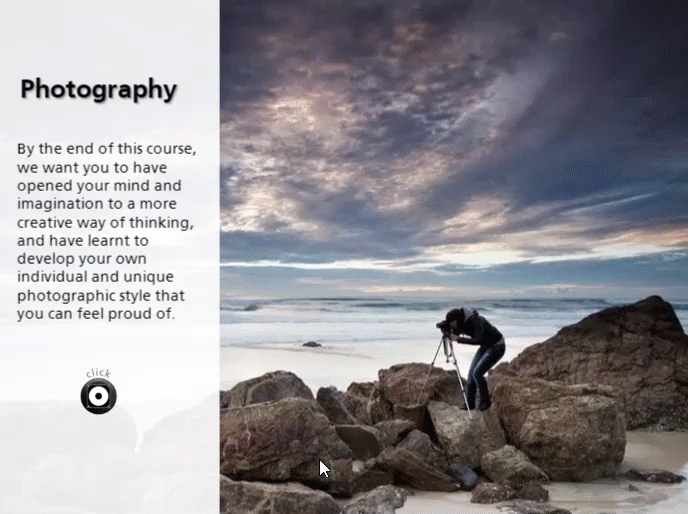 See some extra content, but it doesn't interest you?
Don't worry skip it and move on – you won't be shouted at! This will help you get to the sections you want to learn, without forcing you through bits you don't.
Another time-saving device we've included is to put our modules on a diet! We've shrunk the size of lessons without losing any essential information – in fact, we've added more and it still takes less time to complete a module than before – 42% faster on average – we timed it!
Our principle was simple, if you didn't learn something new on every page it was removed. We've knuckled down to the hard facts, technical details and essential tips straight away.
We even went as far as changing an entire module! Module 16, formerly our Photographic Diary, has now become Professional Tips.
A brand-new module and test filled with advanced information regarding printing, composition and colour psychology from the point of view of professional photographers.
In fact, we've changed a lot of our module content around. By reviewing the entire course and grouping together techniques of photography in an order that makes it easier to understand for any beginner entering the hobby.
You'll notice new module and section titles as well as newly designed menu structures too. No more repetition of the same point, instead we've closely knitted our teachings, so you get all the best tips and tricks, in the same place, at the right time.
Want some study aids to use when you're offline? Why certainly!
We've added in 15 new PDF guides and documents as part of your iPhotography Course membership. Do you want more help with…
Bird Photography?
Floral Compositions?
Astrophotography?
Client Questionnaires?
Flash Guide Numbers?
Prop Box Ideas?
Landscape Photography?
Then check out the new look iPhotography Course!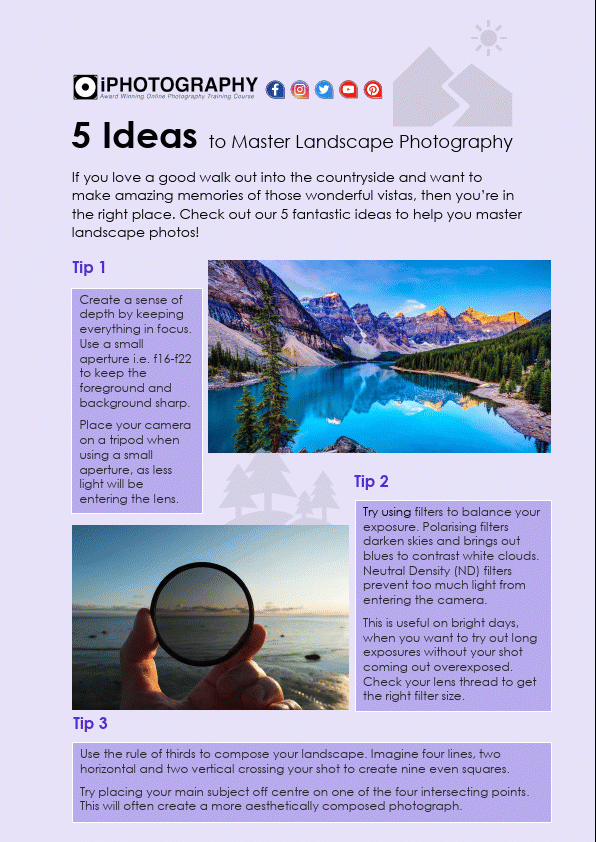 It's time we added in more resources from the iPhotography network.
To go alongside our course content, we've added some brilliant photography tutorial videos to our modules.
You now can get extra visual tips on posing, lighting, editing and lots more!
Plus our graduation certificate has undergone a re-design to fall in with our new branding.
This beautiful certificate is free to download when you complete all 18 modules of the iPhotography Course – proof that you know your photography inside and out.
If you love challenging yourself and getting helpful feedback from the iPhotography Course tutors, then you'll be glad to know we've redesigned our beloved optional assignments.
Our 9 module tasks have been given a facelift and streamlined so the brief is simple and clear with handy submission guidelines.
And if that's not enough we've also placed handy links throughout the course to some of our amazing blog articles. So, if you're enjoying a section, chances are they'll be additional information available for it, at the touch of a button.
No more navigating from menu to tabs, it's instant learning!
SWITCH OVER DATE
31st MARCH 2020
Since our course structure will be changing, we're giving all current students (who will receive this upgrade for free) as much notice as possible about the changes you'll experience as it may change your learning pattern.
On 31st March 2020, you may experience temporary interruption to service which we plan to keep to a minimum.
iPhotography Course not only teaches you all the standard technical expertise, settings, skills, and special effects with your camera – but we also show you how to use these skills to develop your own individual style as a photographer.
This is not for devoted Photoshop or Lightroom users as today we are discussing what's the best 'on-the-go' smartphone editing apps.
Watch as iPhotography Tutor Rebecca walks you through her set up and shots for a fashion photography photoshoot with a bohemian theme.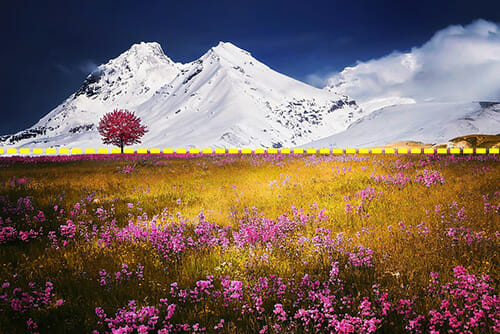 It's a common fact that we as humans prefer straight, levelled horizons and don't respond well to things being off-balance. This rule is exactly the same when it comes to photography.

Who Are Photography Classes Made For?
Are our classes made for you? Well if you're brand new to photography or been practising for a little while but starting to hit a wall then, the simple answer – YES! 
Whether you have just bought a camera or have spent years behind the viewfinder, our photography classes are comprehensive, educational, honest and cutting-edge – there are no other courses like it (believe us, we checked a lot!). 
We're like the Wikipedia of photography – all of the answers are under one roof.
3 Ways to Use Natural Light
Sunlight can be discussed using a few different photography terms and approaches. There are normally 4 considerations photographers look at when using natural light in their photos - Direction, Colour, Intensity and Quality.
1. Direction
In which direction is the light falling? Is the direction of the light where you need it to be? While it's very hard to change the direction of natural light unless you're using reflectors you may have to move your subject into the path of the light to get the right finish.
There are 3 main directions that you can use natural light in a photo;
FREE

- Optional Assignments

Some of our classes offer personal critiques and constructive feedback from qualified photography tutors. Receive 1-on-1 advice and tips from the experts.
5 Top Architectural Photography Tutorial Tips
How to Be a Nature Photographer
Going from a beginner nature photographer to making money from your camera you need dedication. It requires time and a never-ending passion to get outdoors with your cameras and practise new techniques. Get outdoors early and return when the sun sets.
Get familiar with your local woodlands and read nature books to learn about wildlife, birding and foliage. This will help you understand what you are shooting and when is the best time of year to find these subjects.
What Does This Guide Include?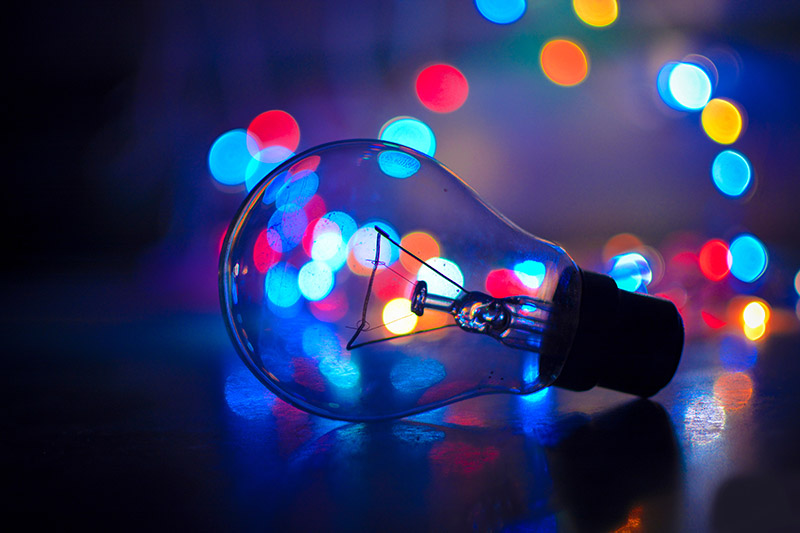 The other challenge when shooting through glass is the tinting. Unfortunately, architects and designers didn't think about us photographers when creating these skyscrapers.
Their windows are invariably tinted in some way to help with heating.
This means that some of your photos may have a green/grey tint to them.
It's not the biggest issue as you can rebalance this tint in editing with the 'tint' slider for example.