compositing photographs
Diary of an Abstract Photographer (PART 2)
by Laura Harrison (iPhotography student)
compositing photographs
If you've enjoyed the first instalment of Laura's foray into abstract photography then you're in luck! The fantastic reception to part 1 of her exploits and experiences has thrilled her enough to create a part 2.
If you've missed the first edition, you can still read it here.
But otherwise, it's time to delve deeper in the world that obscures form, colour and texture with Laura Harrison, our iPhotography student expert…
Mixing Medias
In 2019 I enrolled on the iPhotoshop Course (now iPhotography PS) with a view to improving my editing techniques. I found the modules to be rather challenging, but certainly educational.
In addition to Photoshop, as mentioned in part 1, I also use Affinity to edit images – either on my MacBook or iPad. I enjoy using Affinity, alongside my Apple Pencil – particularly when travelling, to while away the journey.
Mixing photography and graphic art can create amazing abstract results. So I thought it might be interesting to share some of my recent ideas.
How to Composite Photographs
Combining two images, by overlaying one onto another, coupled with some patience, it is possible to create some original and different effects.
Step 1
The first step is to create and select two images.
Here, the first image, is a high-key feather image with a water droplet. The feather was placed onto my iPad, using the Softbox App to give a bright, white background.
I also added a small tear of water with an eyedropper.
Technical Setup: Canon Macro EF 100mm 1:2 8L IS USM, ISO 400, F/16 and shutter speed @ 1 second.
Step 2
The second image is from a series I made entitled "underwater fireworks".   Whilst researching food colouring in water photography, I discovered a "science experiments for children" video and thought one of the ideas might have potential in a photographic sense.
Here's the technique: 
Pour some vegetable oil into a small glass 

Add a few drops of different liquid food colourings  

S

tir the mixture gently to produce small coloured beads  

Add the mixture to a large glass of water

It will initially float on the surface until the beads "explode", creating trails of colour as they sink. 
Technical Setup: Canon Macro EF 100mm 1:2 8L IS USM. ISO 800, F/2.8 and shutter speed @ 1/125th. I also used a flash to free the action.
In order to arrive at the final composite abstract image, some further work was entailed! For some time, I have been intrigued by the possibilities of compositing two original images together. Although there are many stock images available on-line, I always prefer to use only my own work in order to produce an original and truly unique piece of photographic art. 
Step 3
When it came to editing, I imported both shots to Affinity. I place the food colouring shot as a new layer over the feather and make some tweaks to its dimensions so it fitted over the base layer exactly. Oh, I also flipped it vertically. 
Step 4
By playing around with the opacity and layer blend modes, a variety of possible effects began to emerge. Once I was happy with the outcome, I made a duplicate of the file (in case I changed my mind later), and then flattened layers together.
Step 5
A Sphere Filter (in Affinity) produced the globe which gave an almost Christmas bauble effect; I used the Inpainting Brush to remove some unwanted elements within the image. 
Step 6
I duplicated the final layer and added minor adjustments to the shadows/highlights and exposure levels. Eventually, cropping the image to what you see as the end result.
Abstract Portrait Composite
A similar technique was used to composite two of my portrait shots into a more abstract image.
It was taken inside a derelict railway carriage where there was some interesting graffiti. Ancillary lighting was used. The second image was taken inside Castle Howard and is of a mannequin with a Venetian mask.
Technical Setup: Canon Macro EF 100mm 1:2 8L IS USM. ISO 400, F/5.6 and shutter speed @ 1/80th.
Technical Setup: Tamron 18-270mm @ 42mm. ISO 500, F/8 and shutter speed @ 1/15th. Hand-Held.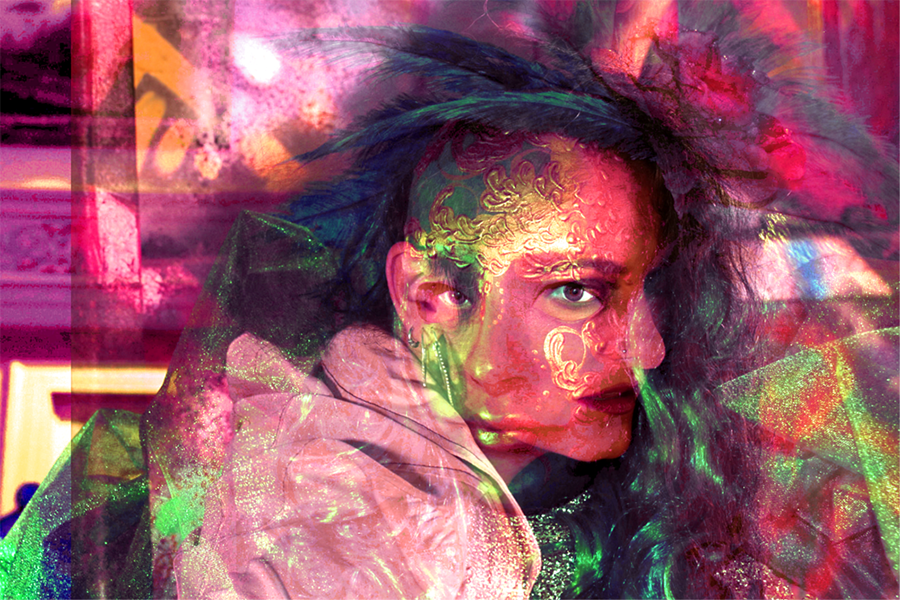 iPhotography Tutors Say…
"Thank you so much to Laura (again) for her easy to follow compositing ideas. If Laura has inspired you to get a little more technical with your photographs then let us know and share your photos in the iPhotography gallery."
If you would like to share your photography experiences, then why not consider writing a photo guide like Laura? Use our dedicated 'Write for Us' page to get started.
Read more about abstract photography here.
iPhotography Course not only teaches you all the standard technical expertise, settings, skills, and special effects with your camera – but we also show you how to use these skills to develop your own individual style as a photographer.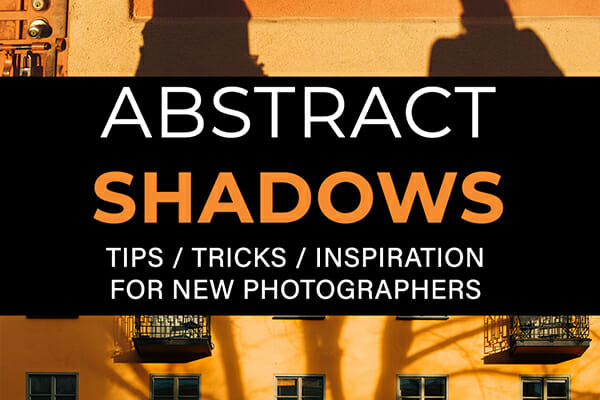 Learn how to manipulate light and create unusual and abstract shadows in your photography. Discover simple tricks and tips for beginners.
Each month the iPhotography™ gallery sees thousands of images uploaded by our students. Here are the Top 10 most popular images from the last 4 weeks.
Follow iPhotography student Avril McPherson's first portrait shoot. Find out how she dealt with camera and lighting issues from a beginners point of view.

Who Are Photography Classes Made For?
Are our classes made for you? Well if you're brand new to photography or been practising for a little while but starting to hit a wall then, the simple answer – YES! 
Whether you have just bought a camera or have spent years behind the viewfinder, our photography classes are comprehensive, educational, honest and cutting-edge – there are no other courses like it (believe us, we checked a lot!). 
We're like the Wikipedia of photography – all of the answers are under one roof.
3 Ways to Use Natural Light
Sunlight can be discussed using a few different photography terms and approaches. There are normally 4 considerations photographers look at when using natural light in their photos - Direction, Colour, Intensity and Quality.
1. Direction
In which direction is the light falling? Is the direction of the light where you need it to be? While it's very hard to change the direction of natural light unless you're using reflectors you may have to move your subject into the path of the light to get the right finish.
There are 3 main directions that you can use natural light in a photo;
FREE

- Optional Assignments

Some of our classes offer personal critiques and constructive feedback from qualified photography tutors. Receive 1-on-1 advice and tips from the experts.
5 Top Architectural Photography Tutorial Tips
How to Be a Nature Photographer
Going from a beginner nature photographer to making money from your camera you need dedication. It requires time and a never-ending passion to get outdoors with your cameras and practise new techniques. Get outdoors early and return when the sun sets.
Get familiar with your local woodlands and read nature books to learn about wildlife, birding and foliage. This will help you understand what you are shooting and when is the best time of year to find these subjects.
What Does This Guide Include?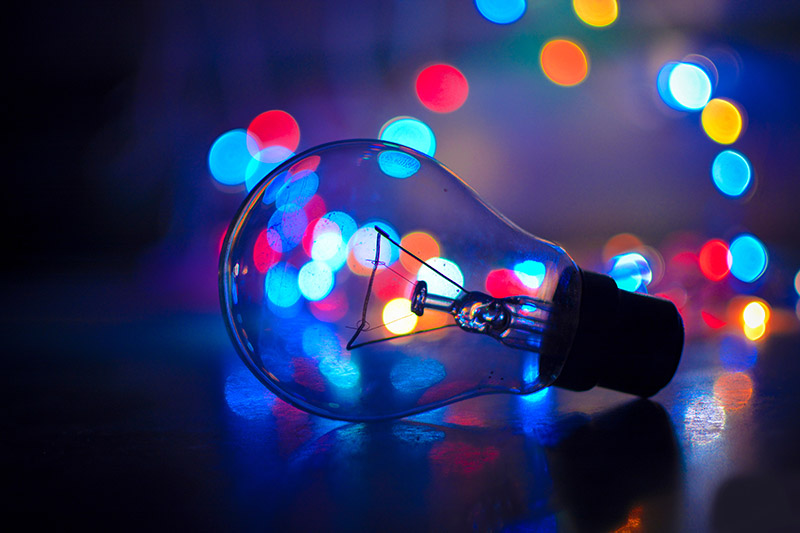 The other challenge when shooting through glass is the tinting. Unfortunately, architects and designers didn't think about us photographers when creating these skyscrapers.
Their windows are invariably tinted in some way to help with heating.
This means that some of your photos may have a green/grey tint to them.
It's not the biggest issue as you can rebalance this tint in editing with the 'tint' slider for example.