aviation photography
Aviation Photography (Pt.I)
by Scott Dunham (iPhotography Student)
How I came to be an air show fanatic…
I attended my first air show in 1985  in Riverside, California. The USAF Thunderbirds were the headliner and they are the only act I remember. I was in awe of the power, speed and precision of the jet formations.
About 4 years later I was living near MCAS El Toro and some of the manoeuvres for the Blue Angels took them right over my home. At the time I had a Pentax 35mm film camera with a 70mm zoom and when I would print my 4×6″ photos, the Blue Angels looked more like brightly coloured insects than aircraft.
Getting the Right Camera
I bought a Sony HSC-1, around 2002, and I was under the impression that it was a better quality point and shoot at that time. It was reasonably good for most of my needs, but I learned that you can't master aviation photography using sport mode. Over 95% of my shots of aircraft in flight were rejected.
These frustrations were what led me to purchase my first DSLR. I bought a Canon EOS 40D, the day before I attended the March ARB Air Show in 2008.
I could probably fill a book with all of the things I've done wrong over the years, but in recent years I usually get some pretty good results. It also helps to have decent photo processing software, but I am not a Photoshop or Lightroom user, but I'll come on to that in part 2 of this article.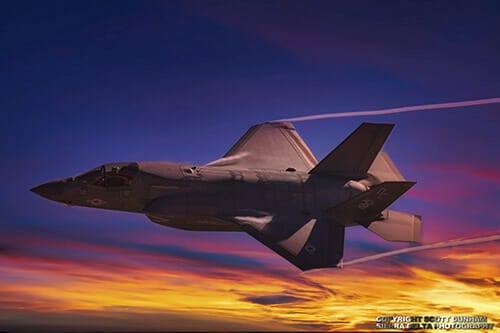 The Gear I Use
Nowadays I shoot with a Canon EOS 7D with a Canon EF 100-400mm F4.5-5.6L IS USM lens. Since my 7D is a crop frame that gives me an effective focal length of 160-640mm.
That also makes my recommended slowest shutter speed 1/640th at maximum focal length – which is an easy number to remember.
I carry a second body because airfields can be dusty places and swapping lenses can get dust on your sensor. For that I use my old Canon EOS 40D and a Canon EF 24-105 F4L IS USM lens.
I am a big believer that if you want good photos from aviation photography, use good glass, and Canon L Series lenses have served me well. In the past when viewing or attending sporting events, it appeared that around two-thirds of the pro photographers use Canon L Series lenses.
The Importance of Filters
I use a 0 or ND101 Neutral Density filter, depending on the conditions, to reduce glare. ND filters have been compared to sunglasses for your camera. The 0 is more of a lens protector that you can take photographs through. 
On the subject of filters, another one of my mistakes to learn from is never use a CPL to photograph aircraft in flight. I tried it thinking it would be alright because most of the planes were flying 200 mph or less. I wanted to reduce glare and intensify the saturation but it simply didn't work out. 
Invest In Fast Memory Cards
It is imperative to have high-speed memory cards for aviation photography. If your camera buffers while you are trying to photograph a crossover, for example, you could easily miss the shot.
I recommend large capacity memory cards so that you're not having to change them all the time, and keep track of how much space you have left because you don't want to be in the middle of the photo pass or the stealth fighter making a pass with the weapons bay open when a "card full" message pops up!
Choice of Tripod
I have a monopod with a Manfrotto pistol grip, but I don't recommend using one unless you have a huge telephoto lens – it's too heavy to be continually lifting.
Same for tripods with gimbals, they require a lot of space and if that's your only camera setup, you may miss a lot of shots when the aircraft climbs or approaches from behind you. 
Top (Gun) Tips –  It's a good idea to check if tripods and monopods will be allowed into any air shows you attend.
Picking the Best Location
Before the air show begins, it can be a good idea to pan around the field with your lens to see what obstructions are present. Some objects may be pretty easy to clone out if you don't mind doing that, but it isn't always that easy.
Watch for other obstructions that might block your view or take over your camera's focus.
Obstructions can affect take-off and low-level flight as well. The F-86 shown below looks like it has been impaled on pins. Both of these shots also show that when I pan I do not keep my horizon level. Aim to leave some room in the frame so that you can level the horizon without cropping off portions of your subject.
You should also look for items that you might want to include in your photos, like the control tower, flags or a late setting/early rising moon.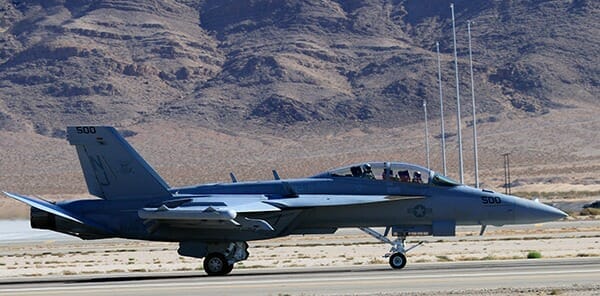 Scott's Guide For Judging Aircraft Speed
Step 1
Start by using an internet mapping program and determine the length of the runway.
Step 2
Then find a landmark such as the control tower or a taxiway that gives you an approximate midpoint for the runway. Most airfields have runways about 2 miles long, so the midpoint is about 1 mile. 
Step 3
It's important to understand the relative speed of the aircraft so you know how quickly you'll have to move/pan to keep the shot sharp. For example, an aircraft travelling 150 mph is travelling 2.5 miles per min.
Step 4
The faster the jet is travelling then the quicker you will have to pan to keep motion blur to a minimum. Shutter speeds of 1/1000th is a bare minimum, but you'll have to increase that the faster the aircraft is moving.
Want More?
If you would like to read more about Scott's exploration into aviation photography then why not read part 2 of this fantastic guide. Scott will walk you through the important camera settings as well as the special tricks he applies to create those stunning skylines.
iPhotography Course not only teaches you all the standard technical expertise, settings, skills, and special effects with your camera – but we also show you how to use these skills to develop your own individual style as a photographer.
Learn how to manipulate light and create unusual and abstract shadows in your photography. Discover simple tricks and tips for beginners.
Struggle to say what you mean? Want to be honest without offending? We've got perfect feedback tips to become a helpful photography mentor.
Read the stories behind 9 of the world's most famous portraits. Learn how these celebrity portraits were created and what made them revered.