How to Start a 365 Photography Challenge
If you are looking for the Navy Seals equivalent of a photo workout then you need to take up a 365 Photography Challenge. Starting up a photography challenge like this requires a big commitment and drive to see it through to the end.
This is why we've put together a fantastic guide to creating your own 365 day challenge that you can start whenever you're ready.
Whats is a 365 Photography Challenge?
Take one photo every day, for 365 days in a row. 
It's that simple – a photography challenge like this may seem simple on paper but in practise it's something else. You don't have to start an adventure like this on the 1st January, you can start it whenever you're ready – as long as you commit to reaching that magic number of 365.
Taking 365 photos doesn't seem like much of a challenge as you may take that many photos on a single day when out with your camera. But being dedicated to taking at least one photo everyday is a different prospect.
You'll need to have great motivation and dedication to the challenge to make it successful as many who start don't get past day 20. Skimping on a 365 challenge isn't allowed either. Picking up your phone and taking a photo for a photo's sake just to tick the list isn't going to teach you anything.
Think of a 365 photography challenge as a fitness workout – there's going to be a great outcome to show for it but only if you really want it.
Is a 365 Day Photo Challenge Worth It?
We could easily say yes, but you'll only be able to agree on the last day.
A 365 day challenge is a cumulative experience as a photographer. You don't see improvements straight away, but you will week after week. Only after the whole event will you see the magnificence in what you've achieved.
Photographers start up a 365 photography challenge for a number of reasons;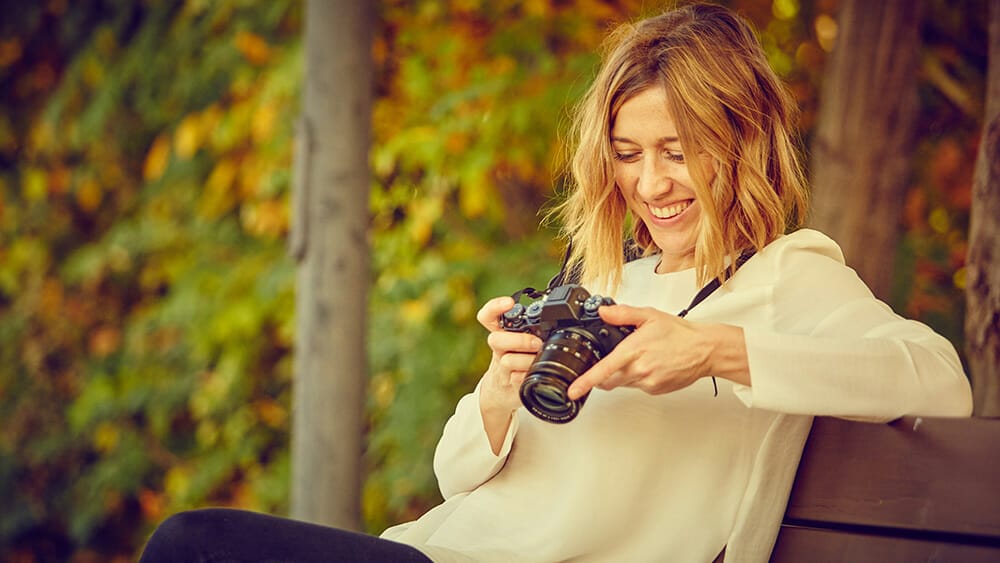 To get themselves out of a creative rut
To make photography a habit
To move up the learning curve quicker
Learn more about what their camera can do
Because photography makes them feel good (and they want more of that)
To gain more exposure, followers and engagement on social media
And to simply fill their spare time
Whatever your reason for starting a photography challenge you can't startup without a plan. Wandering around aimlessly with your camera taking pictures of anything you see isn't educational.
Instead, you need a plan to make sure your challenge gives you the chance to grow, experiment and an opportunity to express yourself creatively.
3 Important Things to Succeed
1. Each of the 365 photos you need to take to complete this challenge needs to be something of interest to you. When you look back on your final shots you'll be able to relate and enjoy the subjects more.
2. Not everything needs to be a theme. It's good to include photography techniques (regardless of the subject matter). You can repeat these again further down the line to see if you've improved
3. Adapt and study along the way. It's also a good idea to read about photography tutorials you may never have tried before while doing your 365 challenge. No one's saying you can't change the themes as you go. Maybe one day you could task yourself with focusing more on editing a photo building your skills elsewhere.
4 Steps to Plan a 365 Photography Challenge
Firstly when writing a plan for a 365 day challenge you need to remember these 5 top tips for making your list possible to complete;
1. Add themes/words/locations that you can access. It's no good writing 'Bahamas' and you live in Southern France. Make sure whatever you include isn't out of reach or requires you to spend lots of money or time to get the shot. 365 challenges can be done for free if you plan it correctly.
2. Include themes you love. Maybe start by making a list of things you like to photograph anyway – flowers, shoes, cake, children. It's going to be hard to think of 365 things to take photos of so feel free to be generic on some days. Those are the days you could apply editing or camera techniques instead.
3. If you have a busy work/family schedule then don't stress yourself out by requiring yourself to shoot at night or early mornings. Make it more object-based in these instances.
4. It's OK to repeat words/themes – in fact it's a good idea to do that. It means you'll get opportunities to improve on what you've done. Make sure you put a few months in between these themes though.
Download a 365 Photography Challenge Cheat Sheet
Feel free to take our photography challenge cheat seat and use it to complete your own 365 tasks. 
We've carefully thought out 200 themes and techniques to get you started. We've made it possible for anyone, anywhere, using any type of camera to complete.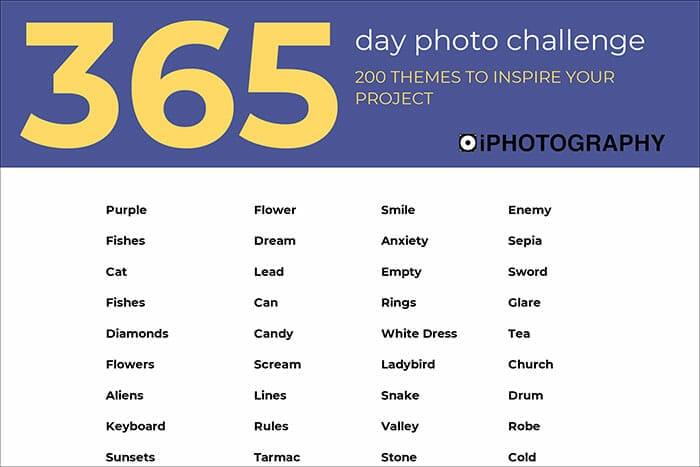 Create Your Own Photography Challenge Sheet
If the ideas are buzzing around in your head already then don't hold back, get scribbling and filling that list. 
We've included a free blank 365 photography challenge template to download so you can start straight away. Remember to bear in mind all the points we've made about what makes a great list and what to avoid including. 
Print out the 2 A4 templates or import it to Photoshop and add in the themes there. This means you can keep a digital version of the list on your phone to refer to.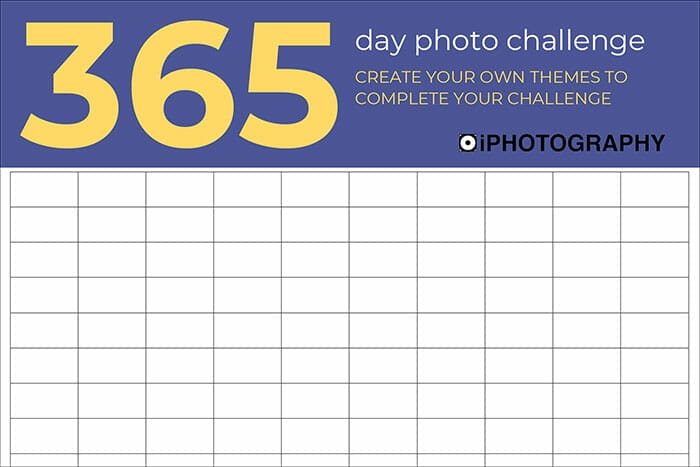 10 Tips for Completing a 365 Photography Challenge
Finally, let's boil down this guide to give you 10 tips to make sure your 365 photography challenge is a mighty success!
1. Only commit if you will see it through. 80% of starters fail in the first 3 weeks. Let that be a goal to smash.
2. Tell your friends and family about it and get them to hold you accountable to make sure you stay on track.
3. Include themes you'd love to photograph.
4. Avoid themes that are just going to be impossible or too expensive.
5. Build it around your work/family life. Don't put pressure on your routine each day.
6. Factor in your holidays or business trips when writing your lists.
7. Repeat words/themes to show growth.
8. Add in some photography techniques to try out (long exposure etc).
9. Make a prop box to give you inspiration for combining themes.
10. Enjoy it – if you see this challenge as a chore you won't make it to the end.
Other articles you might like to read connected to this topic;
iPhotography Course not only teaches you all the standard technical expertise, settings, skills, and special effects with your camera – but we also show you how to use these skills to develop your own individual style as a photographer.
Discover these 7 quick tips for bird hide photography by, Rachel Sinclair, pro wildlife photographer and safari specialist
Should you help out your fellow photographers and share your tips? For example, imagine if you're earning money as a commercial photographer.
Learn to take control of the exposure in your pictures by mastering F/stops. Get the best shots with help from this photography tutorial.